The Norfolk Broads provide an idyllic backdrop to some of the best sailing holidays in the UK. Experience the tranquility of the Broads from the comfort of your own sailing yacht. Sail silently past reed beds, observe wildlife and enjoy the wide Broadland skies. If you're lucky, you might even see an otter or two!
A wide range of yachts from two to eight berths is available for hire, including traditional wooden built gaff or gunter rigged yachts and modern GRP yachts with bermudan rigs for ease of handling. There are boats available to suit all levels of experience. All yachts have comfortable interiors with bedding supplied, together with onboard cooking facilities. It is not always practical on some yachts to have a shower, but there are showers available at different locations around the Norfolk Broads. All boats are supplied with an information folder.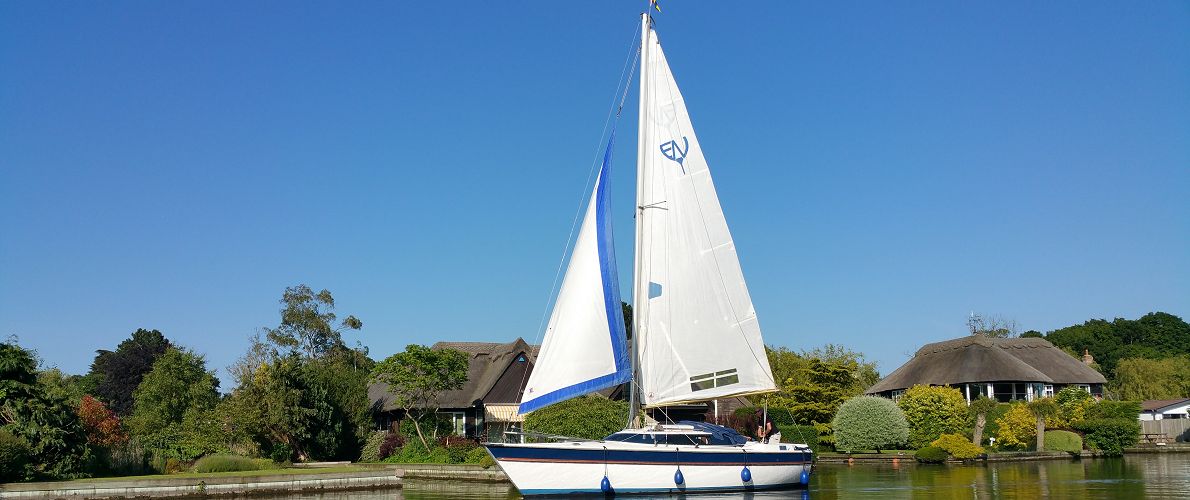 If you've never hired a sailing boat before, ask us about the sailing tuition available to supplement your Norfolk Broads sailing holiday.
Sailing tuition with an RYA qualified instructor needs to be booked in advance of your holiday; there's also an opportunity to gain sailing qualifications. You can hire a yacht from any of our bases for a week and learn to sail at the same time. 'Top-up' sailing tuition is also possible with a qualified RYA instructor for a few hours or by the day at the beginning of the holiday if you are a bit rusty or if you want to learn the tricks of sailing on the rivers of the Norfolk Broads in these purpose built yachts.
Our 3 fleets sail from Ludham, just off the River Thurne, Martham on the Thurne above Potter Heigham bridge and from Upton Dyke off the River Bure.
From Ludham, our fleet of historic 1930s traditional wooden sailing yachts have no engines onboard so are eco-friendly and offer the experienced sailor a sail second to none. The Hunter Family built these yachts specifically for the Norfolk Broads over 80 years ago and boast a compliment of five 2 berths, five 3 berths and four 4 berth cabin yachts.
Sail a piece of history when you charter 'Zoe' from Martham, built over 100 years ago and the oldest yacht available to hire on the Norfolk Broads. 'Zoe', a Victorian gaff rigged counter stern is perfect for the traditionalist with some previous sailing experience. Our base at Martham has a large choice of gaff-rigged and bermudan rigged wood and GRP yachts, all with engines and some with showers.
At Upton it's only a quick motor out of the dyke onto the River Bure where you will soon be sailing. The Upton yachts are modern and well equipped, with a furling jib, electric fridge, gas heating and many with showers. If you prefer something a little easier to sail, why not try 'Tropical Wind', a fun, easy to sail yacht with a bermudan rig, self furling jib and winch lowered mast.

Barton Charter Yacht Regatta
Book a boat and a place in the annual Barton Regatta, held specifically for charter yachts and sponsored by Waterways Holidays. The Regatta normally runs in mid October.
Established in 1977, the Regatta is still a very popular sailing event today and continues to take place during the second or third week of October each year.
The Regatta is open to participants who have previous sailing experience. Over 30 yachts take part, with participants competing in a series of friendly races over four days, starting on the Monday. A prize giving night is held on the Thursday of each Regatta week and includes an informal three course sit down dinner. There are two other optional evening social events during the week. Book a seven night holiday starting Saturday on selected yachts from either Upton or Martham and enjoy a couple of days sailing before the Regatta getting to know your boat while heading towards Barton Broad. On the Friday you can have a leisurely cruise back to base, returning your yacht by Saturday morning.
Read more about boating holidays on the Norfolk Broads.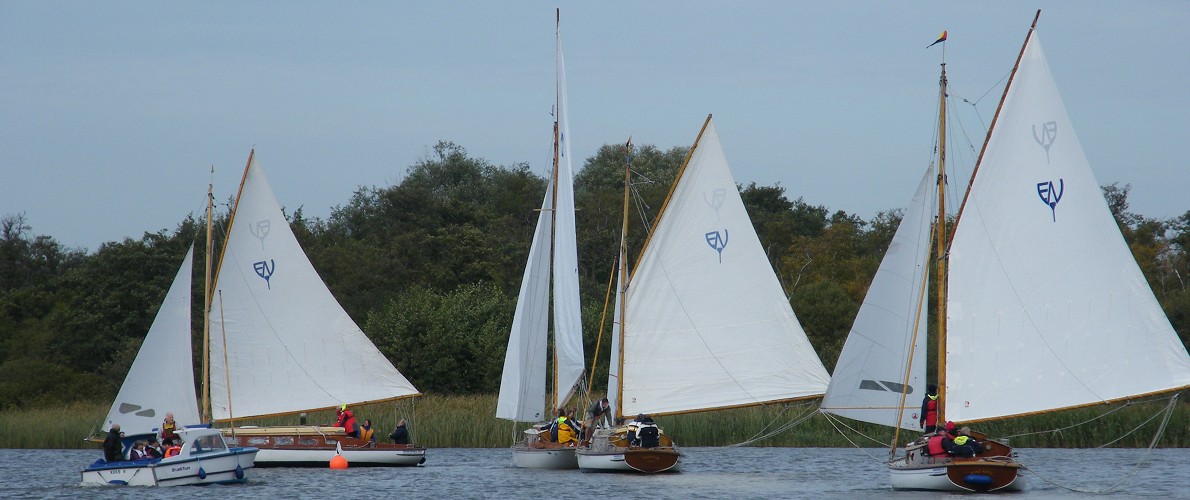 Questions?
Call us on 01252 796400 for friendly advice or check our frequently asked questions about boating holidays.