Take time to discover regional delicacies and fine wine whilst on your boating holiday in France. You'll find locally grown products at weekly street markets in many villages and towns. All our hire bases have English speakers and you'll receive a warm welcome and full tuition on arrival.
Mooring: Generally, you are able to moor where you like, as long as you are not causing an obstruction, disturbing local or wildlife or on private property. There are purpose built moorings in many towns and villages. Some of these moorings are free, others are chargeable. Where charges exist, they are between approximately €10 and €50.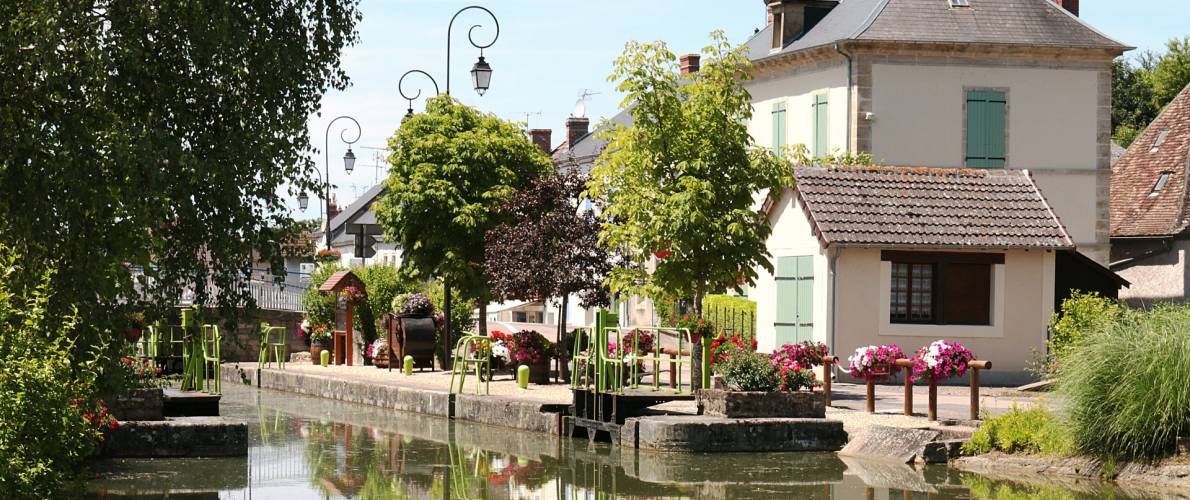 Locks: Passage through locks and bridges is free. Whilst some locks are mannual, most locks are automatic and operated by a lock keeper who may request your assistance. Many of the locks are open during the day (please check opening hours) but close at lunchtime. Generally, lock keepers do not work on Bank Holidays and therefore depending on the region, the locks may be closed on these days. Bank Holiday dates: 1st May, 14th July and 1st November.
Grocery shopping: Please remember to take some cash with you on your French boating holiday as some shops cannot accept payment by card. The currency in France is the Euro.
Fishing: You'll need to purchase a licence to fish.
Western France
Brittany
The waterways in Brittany are devoted entiely to pleasure boating. Here you'll have opportunties to sample great seafood, crepes and traditional cider. The locks are open all season.
Perfect for history lovers, the region boasts Medieval castles and villages as well as abbeys, chapels and manors. Enjoy local cider and Breton butter biscuits. Not to be missed is the medieval castle at Josselin, designated a 'monument historique' since 1928.
Bases:
Glénac (Canal de Nantes a Brest). Closest airports: Nantes, Rennes
Sucé sur Erdre (L'Erdre). Closest airports: Paris-Orly, Nantes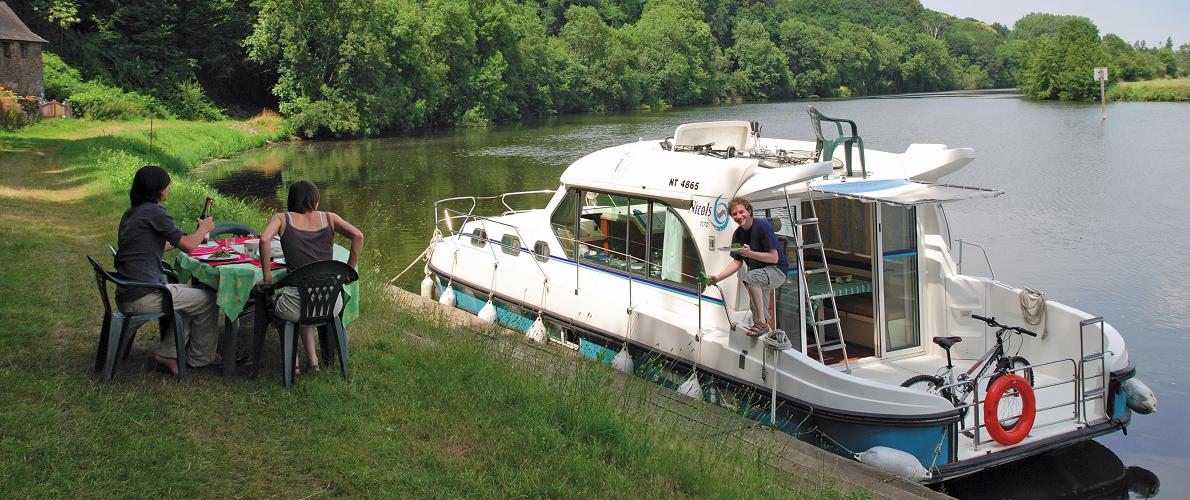 Anjou
The region is only 2.5 hours from Paris by car and boasts a network of 300km clear water rivers which are solely used for leisure and tourism. Ideal for beginners, there aren't many locks there are lock keepers to give you a helping hand. The locks are open all season.
There's something for everyone here; historic castles, abbeys, local annual festivals, numerous waterfront villages, and excellent gastronomy. There's even an option to combine your boating holiday with golf.
Bases:
Grez-Neuville (L'Oudon). Closest airports: Paris-Orly, Nantes Atlantique
Sablé sur Sarthe (La Sarthe). Closest airports: Paris Charles de Gaulle, Paris-Orly, Nantes Atlantique
Laval (La Mayenne). Closest airports: Rennes
Charente
Crystal clear water, countryside and fields of sunflowers sum up a cruise along this large and winding river. There are no restrictions on travel time as locks are open all season and operated by the hirer.
The Charente is a peaceful region of France and perfect for wine tasting as there are Cognac and Pineau vineyards. Local specialities for food lovers include 'mouclade' oysters, melon, meats, snails and cheese. The beatuiful river is also perfect for fishermen, who can expect to catch brown trout, carp, pike, perch and eel.
Bases:
Sireuil (La Charente). Closest airports: La Rochelle-Laleu, Bordeaux-Mérignac, Angouleme-Champniers
South West France
Aquitaine
A choice of cruising routes along the River Baise and the Canal de Garonne. Dating back to the 19th Century, the Canal de Garonne starts at Castets-en-Dorthe and meets the Canal du Midi at Toulouse. The canal has lots of straight sections that pass through pretty countryside as well as plenty of historic towns and villages. The locks are automatic in this region. The locks on the Canal de Garonne are closed 1st May, they are open all season on the Blaise.
Local specialities include Armagnac, duck breast, Agen prunes and Buzet wines. Attractions include the 16th Century Castle of King Henri IV in Nerac and the 12th Century Abbey and Cloister in Moissac.
Bases:
Buzet (La Baise). Closest airports: Bordeaux-Mérignac, Toulouse-Blagnac
Southern France
Midi
The sun-kissed Canal du Midi in Southern France is perhaps the most famous canal in the World. Together with the Canal de Garonne, the Canal du Midi links the Atlantic Ocean with the Mediterranean Sea and is a UNESCO World Heritage Site, together with the historic fortified city of Carcassonne, a superb example of a fortified medieval town.
The bases at Capestang and Le Somail are located on 'Le Grand Bief', a 54km lock free pound that runs between Argens and Beziers through the heart of the Minervois wine region.
Bases:
Le Somail (Canal du Midi). Closest airports: Beziers, Carcassonne, Montpellier, Toulouse
Port Lauragais (Canal du Midi). Closest airports: Toulouse-Blagnac, Carassonne-Salvaza
Capestang (Canal du Midi). Closest airports: Perpignan, Carcassonne, Béziers, Montpellier, Toulouse
Carmargue
Rich biodiversity, sandy beaches and bustling medieval towns and ports make for a fun filled holiday in the south of France. The Carmargue region enjoys warm sunshine for most of the year and there arent many locks so the waterways are great for boating beginners.
Food lovers will love the Meditarranean style cuisine and local products. Families will enjoy a visit to 'Les Petits Bouts' adventure park in Aigues Mortes, as well as the aquarium and mini golf at Grau du Roi.
Bases:
Bellegarde (Canal du Rhone a Sete). Closest airports: Nimes, Montpellier
Aigues-Mortes (Canal du Rhone a Sete). Closest airports: Toulouse-Blagnac, Carassonne-Salvaza
Central France
Loire Valley
Easily accessible, the Loire Valley is approximately 2.5 hours from Paris by car and encompases the heart of French village life. The waterways are peaceful and set between hills and forests. The locks are closed on 1st May.
The region has excellent cuisine and is famous for it's local produce, Sancerre wines, arts and crafts and historical sites. Dont miss La Charite sur Loire, a 'City of Books' with craftsmen, calligaphers and illuminations.
Bases:
Rogny (Canal de Briare). Closest airports: Paris-Orly
Plagny (Canal lateral a la Loire). Closest airports: Paris-Orly
Burgundy
The Canal de Bourgogne connects the Seine Valley at Laroche with the Saône Valley at St-Jean-de-Losne, covering a total distance of 242 km. Leaving the Seine Valley, the canal follows the path of the River Armançon, meandering through lush countryside, passing many historic towns and Chateaux before it reaches the heart of Burgundy. The locks are closed on 1st May and 14th July.
The Canal du Nivernais links the Loire Valley to the Seine Valley. A beautiful canal full of charm, the Canal du Nivernais has excellent restaurants serving regional cuisine and fine wine. From Vermenton, cruising options include the medieval city of Auxerre via the River Yonne. The main sites in Auxerre include the Cathedral of St. Étienne and the Abbey of Saint-Germain.
Bases:
St Florentin (Canal de Bourgogne). Closest airports: Paris airports
Vermenton (Canal du Nivernais). Closest airport: Paris airports
Brienon (Canal de Bourgogne). Closest airports: Paris-Orly
Venarey les Laumes (Canal de Bourgogne). Closest airports: Paris-Orly, Dijon
Franche-Comte
Franche-Comte region is located between Alsace, Burundy and Switzerland. There are oer 300km of navigable waterways and on a boating holiday here you can expect traditional villages, historical towns and scenic countryside. It's recommended that you have previous boating experience if cruising on the River Doubs. The locks are closed on 1st May.
Nearby points of interest include the Castle of King Louis XI at Auxonne and the Vauban Citadel in Besancon. The region is great for fishing where you may be lucky to catch pike, carp, catfish and bream.
Bases:
Port sur Saone (La Petite Saone). Closest airports: Dijon, Bale
Dole (Le Doubs). Closest airport: Lyon
Alsace
A mountainous region with beautiful scenery, watersports, history, tasty local cuisine, cycling and hiking. Cruise towards Strasbourg or Arzviller, which has the only boat lift in France. The locks are closed on 1st May.
Join the Canal de la Sarre at Gondrexange and explore lakes, beaches, swimming and watersports. Frp, Harskirchen, cruise to Sarreguemines which is famous for its ceramics or to Saarbrucken which is just over the German border.
Bases:
Saverne (Canal de la Marne au Rhin). Closest airports: Strasbourg
Harskirchen (Canal de la Sarre). Closest airport: Strasbourg, Metz Nancy
Prefer a boating holiday in the UK? An interactive map of the UK inland waterways is available here.