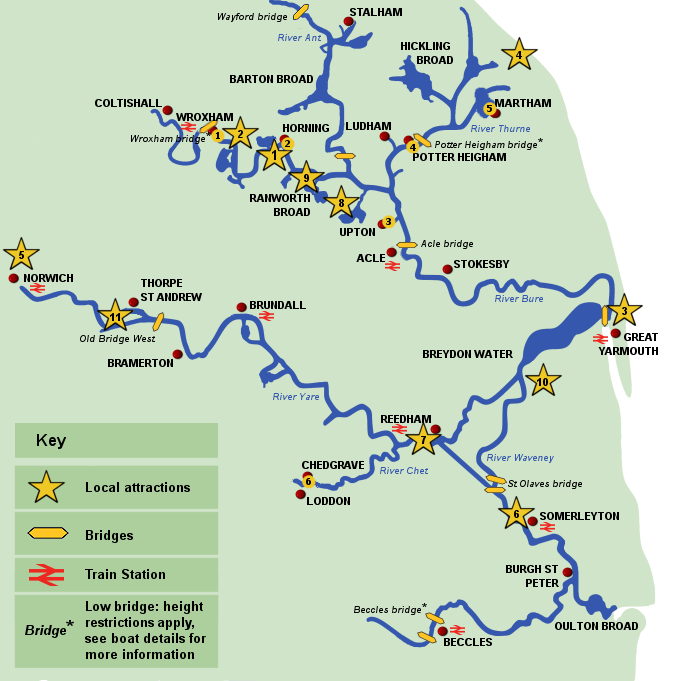 Local Attractions:
BeWilderwood: A treehouse adventure park set in the forest land of Boggles, Twiggles and thorny Crocklebogs. Just a short taxi ride from Horning.

Wroxham Barns: Children's activities including a farmyard, arts & crafts workshops and a funfair. Regular bus service from Roys, moor at Wroxham.

Great Yarmouth: Seaside resort, with waterfront amusements, rollercoaster rides and coastal views. Moor at Yarmouth Yacht Station, a small fee applies.

Horsey Mere Windpump: Explore the historic wind pump and stroll across sand dunes. Spot a colony of grey seals along your coastal walk.

Norwich City: Peruse historic architecture dating back to the Norman era juxtaposed against modern shopping facilities.

Somerleyton Hall and Gardens: 12 acres of breathtaking gardens with childrens trails and guided tours of the halls.

Pettitts Animal Adventure Park: Visit the animals up close and personal with the family. Located in Reedham, a short taxi ride from the River Yare.

Fairhaven Woodland & Water Garden: A unique water garden rich with wildlife. A short taxi ride from South Walsham on the River Bure.

Ranworth Nature Trail: Walk along Ranworth Broad leading to the boardwalk with a floating wildlife centre. Moor at Ranworth Broad on the River Bure.

Burgh Castle: Spot this 3rd Century Fort from the water or by foot and take in the amazing views of Breydon Water. Moor near the Berney Arms.

Whitlingham Outdoor Centre: Experience water sport activities, learn to sail or take one of the many trails located on Great Whitlingham Broad.
You can cruise a lot of the Norfolk Broads on a seven night boating holiday, giving you the freedom to choose from any of our start locations. The area is actually quite close knit, so in a short break you'll be able to explore lots of different rivers and Broads as well as many towns and villages.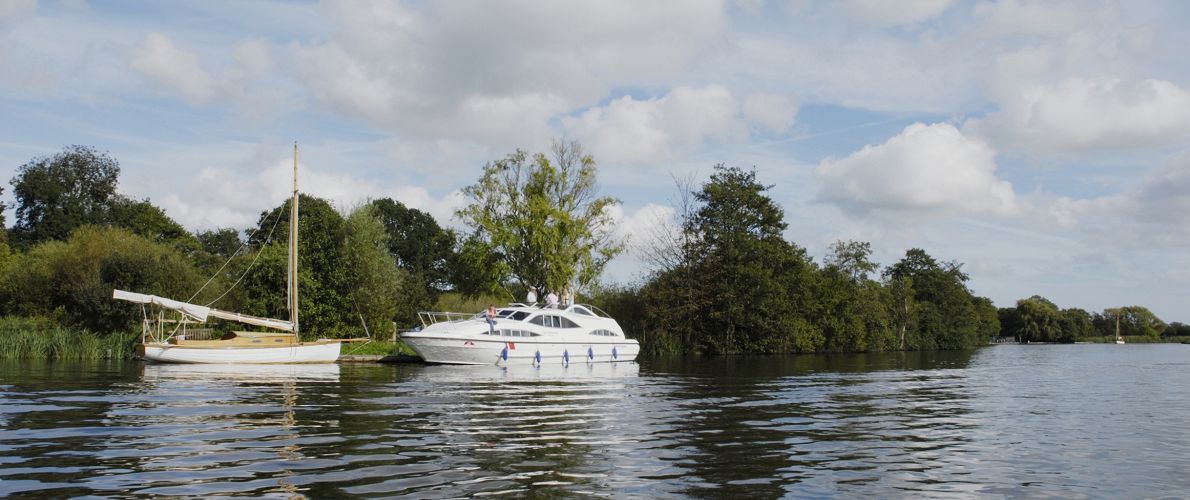 River Bure
Discover towns and villages along the River Bure, the longest river on the Broads. A busy river usually full of activity, a journey along this river will take you past Wroxham, sometimes called the 'Capital of the Broads'. Wroxham is home to the self proclaimed 'world's largest village store', 'Roys of Wroxham'.
Bases:

Wroxham.

Horning.

Upton.
River Ant
A narrow, winding river, the Ant runs north from its confluence with the Bure towards Wayford Bridge and Dilham and in days past into the Dilham canal (now disused). The Museum of the Broads, relocated to Stalham Staithe in 2000, is worth a visit if you are at Stalham village. Just south of Stalham along the River Ant is Barton Broad. Here, Nelson is said to have learnt to sail, Barton Broad is the second largest on the Norfolk Broads and the only Broad that has an island. The annual Barton Charter Yacht Regatta is also held here.
River Thurne
Travelling east along this wide river you'll reach the small village of Potter Heigham and the lowest medieval bridge on the Norfolk Broads. Only the lowest of hire boats can navigate under this bridge with the help of a bridge pilot, and navigation is dependent on tide and weather conditions. Once beyond the bridge, continue past the boatyard at Martham and bear left towards Hickling and Horsey. Turn right for Horsey and moor by the Windpump. Take a stroll towards the coast through a gap in the sea defences and you'll reach a large beach where you might be lucky enough to spot grey seals.
Bases:

Ludham, Womack Water.

Potter Heigham.

Martham.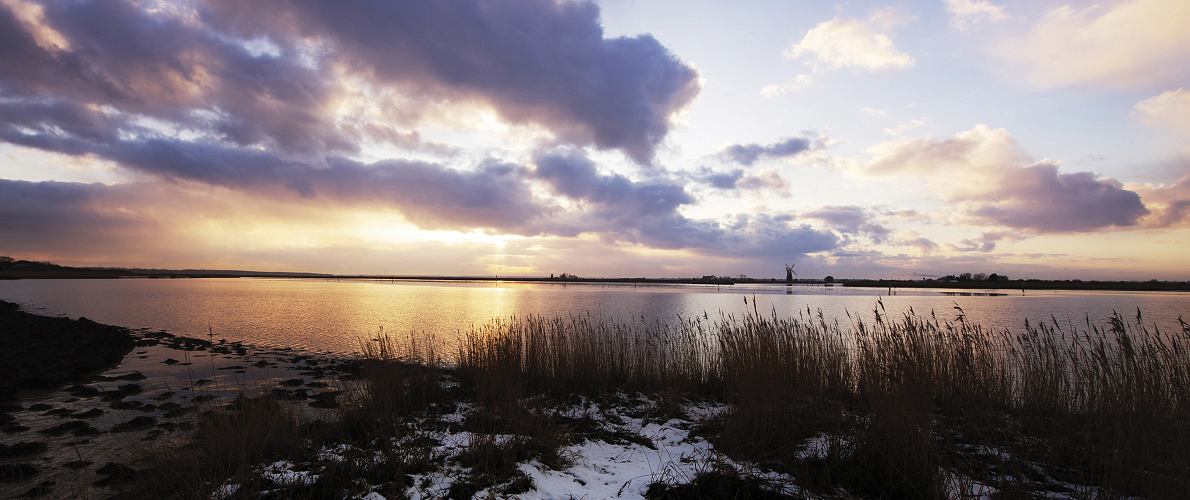 Breydon Water
Breydon Water links the Norfolk Broads to the sea via Great Yarmouth Port. This large expanse of water connects the northern Broads to the southern Broads and can be tidal - you should check tide times before you travel.
River Waveney
The River Yare widens to reveal more scenic landscape and endless skies. A great destination to drift downstream forgetting any of life's daily stresses. You can navigate your hire boat to the historic City of Norwich for a spot of shopping or sight-seeing or to experience the more contemporary night life. Alternatively if you fancy the thrill of other water based activities, take to Whitlingham Great Broad or Oulton Broads for plenty of water sports and recreational activities to experience.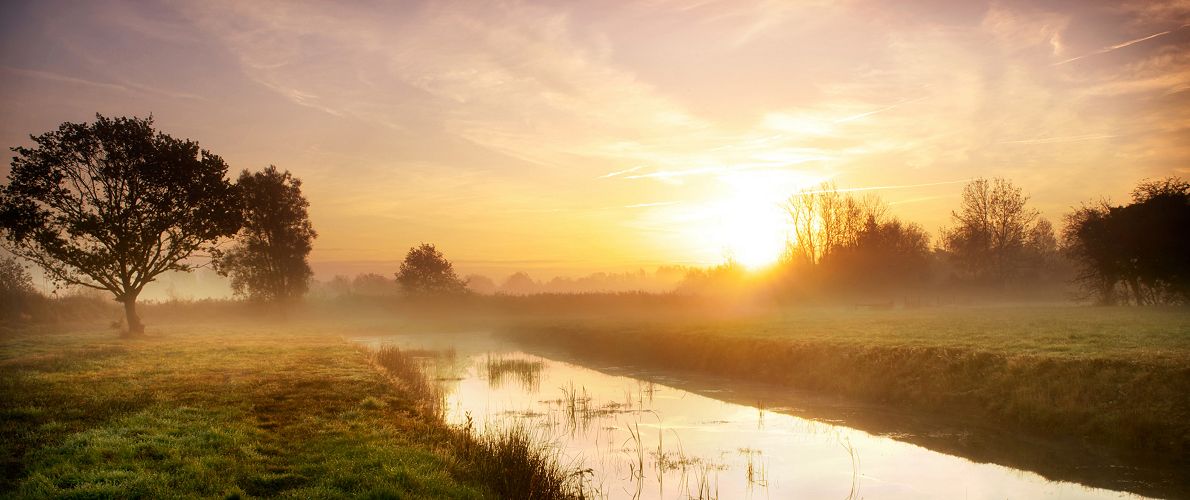 River Yare
The River Yare widens to reveal scenic landscape and endless skies. For a spot of shopping, sight-seeing or night-life, moor at the historic city of Norwich via the River Wensum.
River Chet
The smallest of the six rivers on the Norfolk Broads, the River Chet flows first through quiet woodland and later, as it becomes more 'canal-like', through marshland. Stop for lunch at the Georgian market town of Loddon.
Bases:

Chedgrave.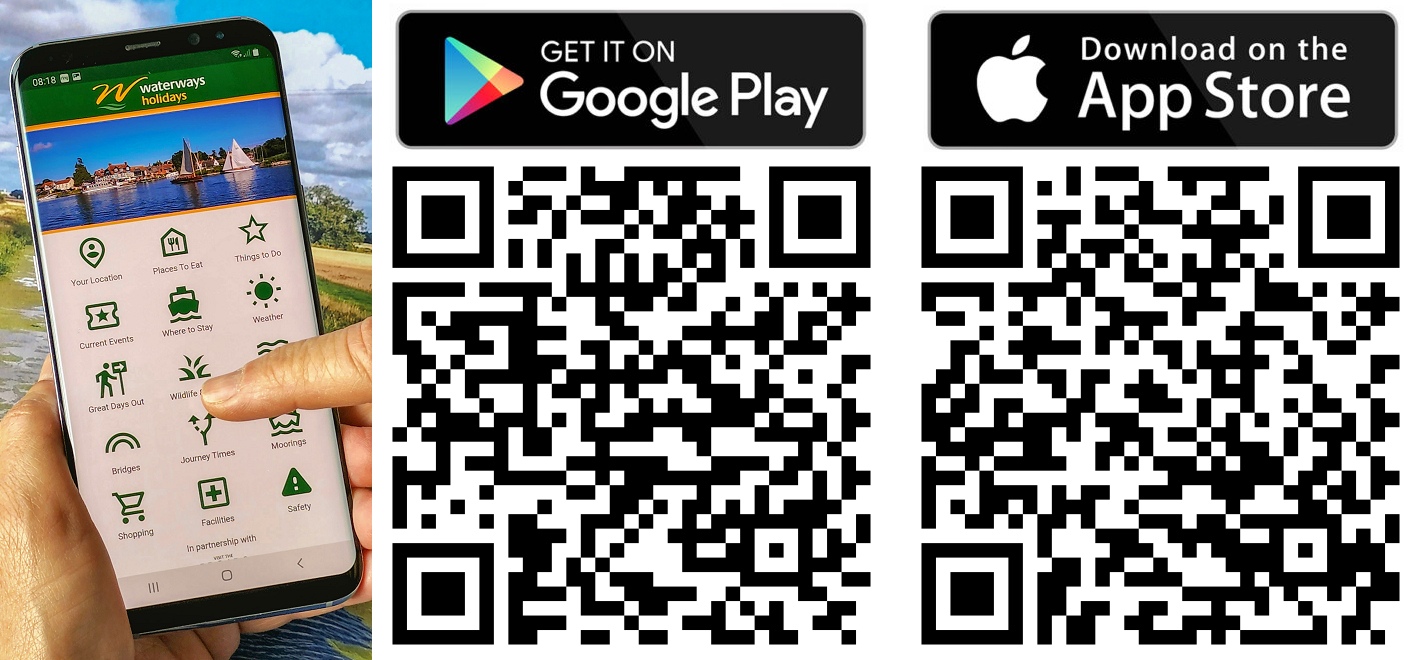 Click here to download our App in Apple Store
Click here to download our App in Android Google Play Store
Click to read more about some of the attractions and hilights to experience on your Norfolk Broads boating holiday, or for more information regarding a sailing yacht holiday on the Norfolk Broads.