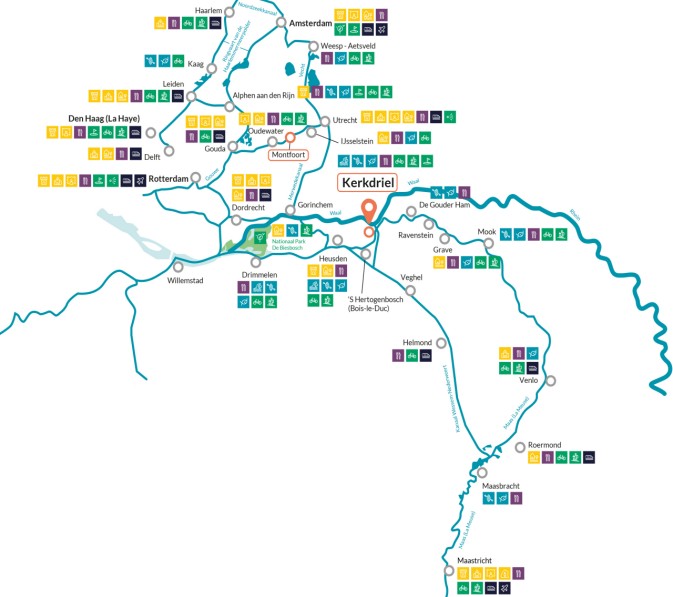 Take a boating holiday aboard one of our luxurious self-drive cruisers in the Netherlands to explore the Dutch waterways. Located 14 km north of Bois le Duc, the charming base at Kerkdriel in the heart of the Netherlands is well positoned for exploring Holland, the 'Country of Canals'. Attractions at the base include a couple of restaurants and a beach. The clean waterways are calm and ideal for first time boaters. Expect to see tulips, windmills and of course cheese whilst on your boating holiday, but also pretty towns and villages, national parks and vibrant cities.
Activities: Our base at Kerkdriel offers a great choice of activites suitable for all the family. You can go cycling (our all inclusive package even includes the use of two bikes), enjoy watersports, go swimming and explore cities such as Amsterdam, Gouda and Maastricht. For those seeking a more relaxed holiday, there are also national parks, art and history museums and fishing.
Top Attractions
Amsterdam Now the largest city in Holland, Amsterdam originally dates back to the 17th Centuary when it was a small fishing village called Amstel. There are many canals in and around Amsterdam and the city also has an abundance of tourist attractions including the Van Gogh museum, boutique shops and lively nightlife.
De Biesbosch National Park: One of the largest national parks in the Netherlands, De Biesbosch National Park has been recognised by the EU Habitat and Birds Directives as an 'Natura 2000' area, a protected wetland of international importance.
Gouda Moor your boat just 10 minutes walk from the Town Hall square at Gouda to explore this charming city, perhaps best known by it's famous cheese. Local attractions include the Sin-Jans Church with it's famous stained glass window in the old town, as well as markets and a variety of shopping streets.
Maastricht Known as the origin of the European Union, the beautiful city of Maastricht has a vibrant mix of designer boutiques, culture and history. Cruise south of the base at Kerkdriel to visit Maastricht, where attractions include the Maastricht caves and the historic port with it's numerous restaurants.
Base:
Kerkdriel. Closest airport: Amsterdam Schipol (90 km).
Prefer a boating holiday in the UK? An interactive map of the UK inland waterways is available here.