The Norfolk Broads provide a safe environment in which to learn to sail. You can experience both river and open water sailing and enjoy this area of outstanding beauty while learning a new skill at the same time. We would be delighted to offer advice on booking a course with a local RYA Training School and help you choose a suitable yacht to hire.
If you have never sailed before, don't be put off, for with just a few days training you will be able to develop the skills required to become a capable skipper enjoying the freedom to sail the Broads network with confidence.
If you already sail but would like a short refresher or want to increase your boating skills and sailing performance, hourly rate tuition sessions specifically tailored to your individual requirements (minimum 3 hours) are a good option.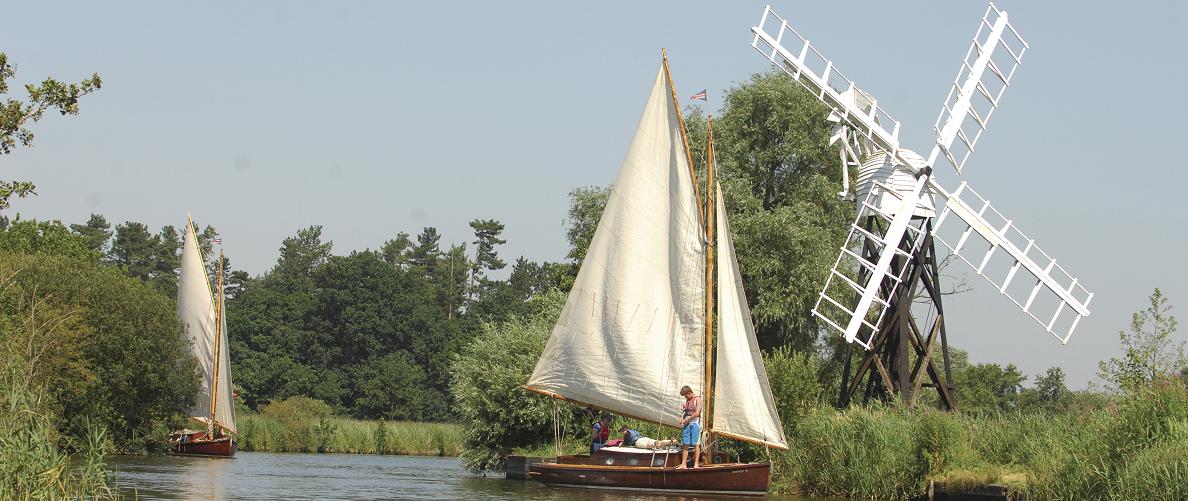 When hiring a yacht for your short break or week long holiday, the instructor will join you at the boatyard from the start and assist in the handover showing you the ropes, before moving off up river to open water where sail training takes place. With you during the day time, your instructor will teach you all the essential elements of sailing craft necessary for confidently mooring and manoeuvring under power, going on to teach you how to sail. At the end of the day's tuition, the instructor will leave you to enjoy your own time, joining you again the following morning.
Starting from scratch and working up to a level where you can understand and manage the basics of sailing takes around 15 hours tuition. Achieving a standard whereby you can sail in light conditions without an instructor can be achieved within 25 hours.
A rough guide to prices from our boatyards at Martham and Upton with a choice of 39 yachts. (2022 prices - unless stated the cost is for instruction only and does not include yacht hire).
Sailing sessions are not restricted to set hours and professional tuition can be provided for any length of time you wish at a fixed rate of £36 per hour from Martham (minimum 3 hours). We would however recommend that absolute novices consider taking longer training time as set out below.
Sail training leading to a recognised RYA Qualification
The courses are structured and extensively practical, with the theory sessions (informal) around breaks in the day. Any of the 3 courses below cost £399 for 1 to 2 people, £425 for 3 people and £449 for 4 people.
The courses are for adults and children. (Children from 10 years upwards but only as part of a family or group with adults in attendance.) For more than 2 people in a group, a course with a weeks break yacht hire is advised in order for everyone to benefit from the time required to complete the course syllabus. Any of the courses can be successfully completed over a short break except combined Levels 1 & 2. Two levels of sailing can only be achieved in a full weeks yacht hire.
The Start Sailing Level 1 course (covers RYA Level 1)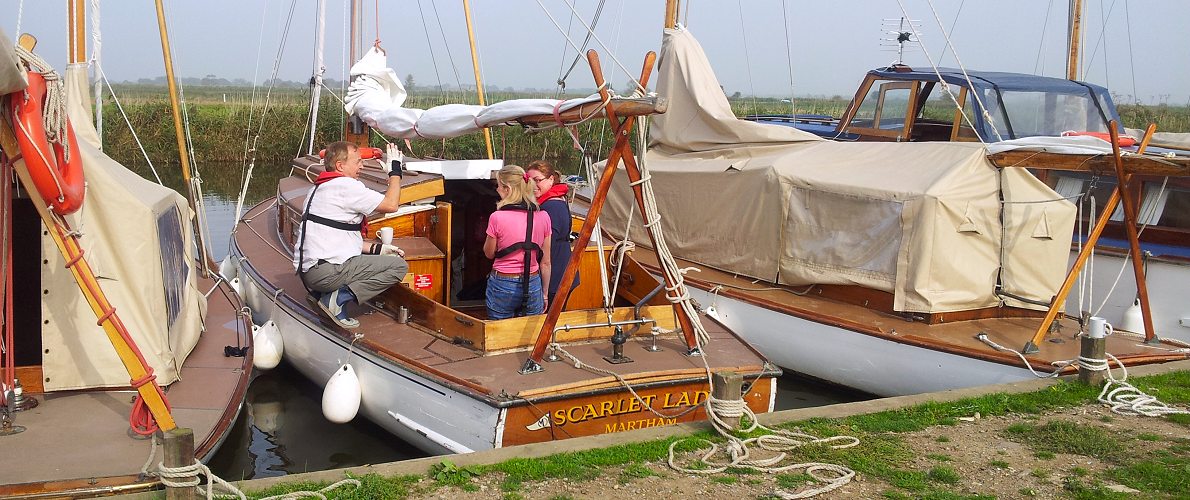 Aimed at the absolute novice and requires no previous experience.
By the end of the course, participants will have a basic understanding of boat handling techniques, background knowledge and will be able to handle the yacht under the watchful eye of an instructor.
The course content includes rigging, ropework and knots, practical sailing manoeuvres, clothing and equipment, rules of the road and safety.
We offer this course as a single module with the 15 hours of tuition spread over your holiday time. You can book this course on either a 'short break' or over a weeks holiday.
If you prefer, you have the option to take this course as a combination course with the Basic Skills Level 2 (see below) on a full weeks break.
The combination of level 1 and level 2 is probably our most popular course. With tuition condensed into 24 hours and spread over the week, we are able to deliver the training in a manner best suited to your overall holiday plans, providing you with ample time to practise your new skills as well as relax and enjoy the beauty of the Norfolk Broads. The combined cost is £799 for 1 to 2 people, £825 for 3 people and £849 for 4 people (2019 price). This popular 'zero to hero' combination course provides a sound introduction to most aspects of yacht sailing.
The Basic Skills (RYA Level 2)
Aimed at people with some previous dinghy or yacht sailing experience or have completed the Level 1 course.
The Basic Skills Level 2 course encourages development of the Start Sailing Level 1 skills, providing further sailing knowledge for people with some limited previous experience, or can be used to bridge the gap between small craft sailing and larger yachts.
On completion of this course, the successful sailor will be safety conscious and have a basic knowledge of sailing in light winds without an instructor on board.
Practical sessions include reefing afloat, ropework, sailing techniques and manoeuvres, clothing and equipment, rules of the road and safety on board.
The course tuition of 15 hours is normally taken over a 'short break'.
Basic Skills Level 3 (RYA Level 3)
Ideal as an improver and developer course for those at level 2 or equivalent.
This course has been designed to offer the opportunity for the Level 2, or equivalent sailor, to consolidate skills and try out new ones. The course aims to provide a bridge to the advanced modules and to make progress easier for those sailors wishing to progress further through the scheme and undertake Seamanship Skills as well as gain a taste of more advanced techniques.
Coaching is based around consolidating the skills learnt during level 1 and 2 with the addition of taster sessions from the advanced modules.
Level 3 is also designed to help build confidence as well as being a technique improver.
By providing a staged progression of courses the RYA ensures greater success and achievement at the more advanced levels. On completion of this course the student should be ready to undertake more advanced modules and seek to improve their overall standard of sailing in slightly more challenging conditions than light airs.
To enrol on this course your sailing skills will need to be to the standard of Level 2
The course is run over 2 to 3 days with 15 hours tuition and can be undertaken over a 'short break' holiday or at the begining of a week long booking.
Higher level courses are available.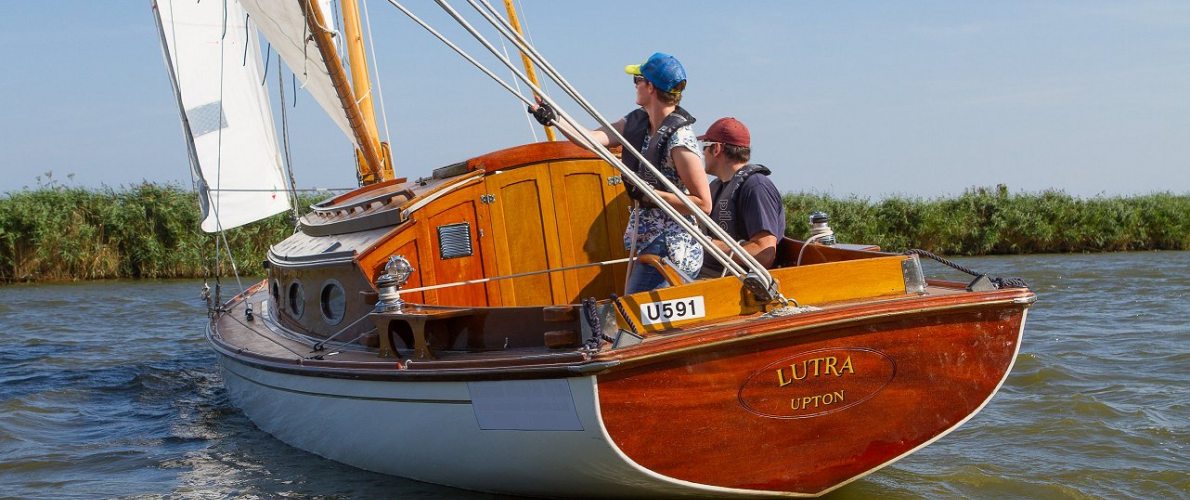 Sailing tuition from Ludham with our fleet of 14 historic 1930s traditional wooden sailing yachts (based on 2022 prices)
The same RYA courses Levels 1 - 3 (above) are also available plus yacht hire:
Cost examples: 2 berth Hustler for the week with 5 days tuition to complete the combined RYA Level 1 & 2 course at an inclusive cost of £1,352.00; a 3 berth Wood Class £1,414.00 or 4 berth Lullaby for £1,669.00.
Questions?
Call us on 01252 796400 for friendly advice or check our frequently asked questions about boating holidays.