Established in 2001 and incorporated in 2003, Waterways Holidays is a family owned and operated business specialising in boating holidays throughout the UK and selected areas of Europe. All of our team are experienced boaters and are happy to provide friendly impartial advice on choosing your perfect boating holiday. In addition to our boating holidays, we also offer a very large choice of waterside holiday cottages, lodges and glamping pods
We can offer you a choice of over 1,600 boats from over 80 different UK start locations on the canals & rivers of England, Scotland & Wales as well as the Norfolk Broads.
Based in Aldershot, North Hampshire we act as a central booking office on behalf of most of the major UK boating holiday operators and your booking is always direct with each operator at the direct booking price.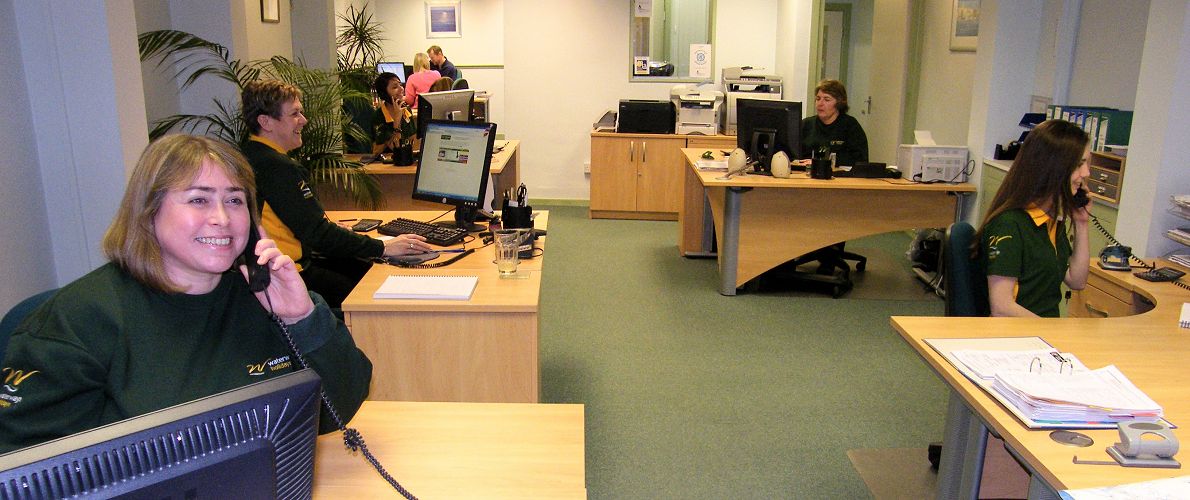 Meet the Team
Nigel (Managing Director)
Nigel joined Waterways Holidays in 2003 after a number of years as a Company Director of a major international telecoms company and before that as General Manager of a large Japanese consumer & business electronics manufacturer.
He has sailed & raced a variety of dinghies all his life as well as crewing in a transatlantic yacht race aboard a 70 foot ocean racer. He enjoys combining his passion for all types of boating with ensuring the design and smooth running of Waterways Holidays web & IT systems to make choosing a boating holiday as easy and enjoyable as possible.
Lesley (Company Director)
Lesley manages our booking team and the general office administration. She is joint owner of Waterways Holidays with Co Director Nigel & in her spare time is a keen narrowboater and enjoys sailing on the Norfolk Broads.
Lesley took her first family boating holiday over 20 years ago on the Monmouthshire & Brecon Canal, which runs through the heart of the Brecon Beacons National Park. Despite it raining for the whole week, Lesley says that she was hooked from the first moment aboard and has since enjoyed many boating holidays throughout the UK.
Abbie (Director)
After graduating from Surrey University, Abbie joined the Waterways Holidays customer service team. She uses her media training to help promote boating holidays through each of our social media pages including maintaining our Facebook and Twitter pages, and updating the pages on the website.
Since joining Waterways Holidays, Abbie has become a keen boater and enjoys nothing more than sharing her enthusiasm for boating holidays with our customers.
Gemma (Customer Service & Marketing)
After graduating at Birmingham University, Gemma has undergone training with the Chartered Institute of Marketing and now manages all the Waterways Holidays advertising and marketing activities as well as remaining a very active member of our boating holidays booking team.
Gemma loves boating and has taken many boating holidays on the Norfolk Broads and canals which she says helps to give an understanding of what types of information customers are looking for when considering their first boating holiday or looking to broaden their experience.
Trudi (Customer Service & Web Inventory)
Following a number of years working overseas in the travel industry, Trudi is now the most senior member of our booking team as well as being the most experienced narrowboater with numerous trips each year across the length and breadth of the canal network. Trudi has also taken a number of holidays aboard cruisers & sailing yachts on the Norfolk Broads.
In addition to using her boating experiences to advise customers on suitable holidays, Trudi maintains all of the boat layout plans and cruising routes on our website.
Annabel (Customer Service)
After joining the Company in 2011 in a Customer Service role looking after our waterside holiday property guests, Annabel now looks after both our holiday boating and waterside holiday property customers. She speaks Spanish & French (having gained her languages degree at Heriot Watt University in Edinburgh as well as living in Spain in her early years).
Heather (Customer Service)
Heather joined Waterways Holidays following many successful years working in a customer facing role in Scottish tourism. Since joining Waterways Holidays she has become a keen boater, having gained experience on both the Broads and canals. She makes delicious Scottish shortbreads baked to a traditional family recipe - we love them!
Heather particularly enjoys helping others to find their perfect boating holiday destination; she's especially knowledgeable about the many attractions along the Scottish waterways.
Amy (Customer Services & Accounting)
Amy joined the Waterways Holidays Accounts & Customer Service department following a career in E-Commerce at a gift shop company. Amy is a passionate film fan and is very good at recommending films for us all to go and watch!
She is also very gifted in helping customers find the best options for their boating holidays and enjoys researching the many different waterways that we have to offer.