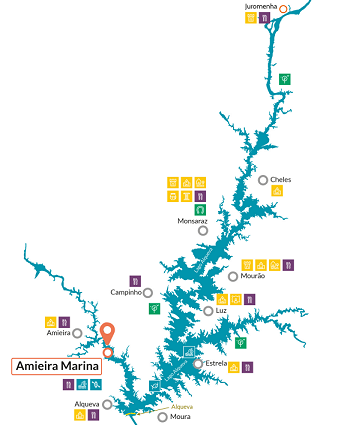 Take a boating holiday aboard one of our luxurious self-drive cruisers on Portugal's Grande Lago (Grand Lake). Enjoy swimming and watersports in the beautiful, warm, crystal clear waters of this outstandingly beautiful lake.
Fishing: If you enjoy fishing, you can catch black bass, carp and many more directly from the deck of your holiday cruiser.
Activities: Our base at Amieira offers a great choice of activites suitable for all the family. You can go cycling (our all inclusive package even includes the use of two bikes), horse riding or quad biking. For those seeking a more relaxed holiday, there are also historic fortified villages, archaeological sites and locally produced handicrafts and pottery.
Eating out: The area of Grande Lago offers an amazing choice of regional traditional cuisine. You can also enjoy a meal overlooking the lake from the panoramic restauraunt located at the marina. We can even arrange an onboard menu and shopping service if required, to allow you the chance to sample some great cooking experiences in the comfort of your own boat.

About the Grande Lago (Grand Lake)
The Grande Lago offers some of the cleanest crystal clear cruising waters in Europe. This unique location allows you to cruise all year round with plenty of warm weather and amazing scenery. Moor up on one of the remote islets for the night for a family 'Robinson Crusoe' experience. Then visit the recently built village of Luz - an exact relica of the old Luz that was swallowed up by the Grande Lago (don't miss the fascinating musem). Next explore Mourao with its castle and fortifications dating back to the 13th Century, with its narrow historic streets and splendid bullring.
With more than 300 days of sunshine every year, you can enjoy a boating holiday in Portugal on the Grande Lago at any time of the year. All of the boats are equipped with a depth sounder, GPS, barbeque and DVD player and monitor. You can rent bikes, canoes and kayaks at the base. Our all inclusive package includes all fuel, cleaning expenses, waterways map, towels and the use of two bikes.
Base:
Amieira Marina. Closest airports: Lisbon, Faro et Badajoz or Madrid (Spain). The airport at Lisbon is 180km (2 hours drive to the marina) and car hire is available from the airport for which you will only be charged 2 days for your outward and return journeys between the airport and Amieira Marina. Please ask us for details (subject to availability)
Prefer a boating holiday in the UK? An interactive map of the UK inland waterways is available here.