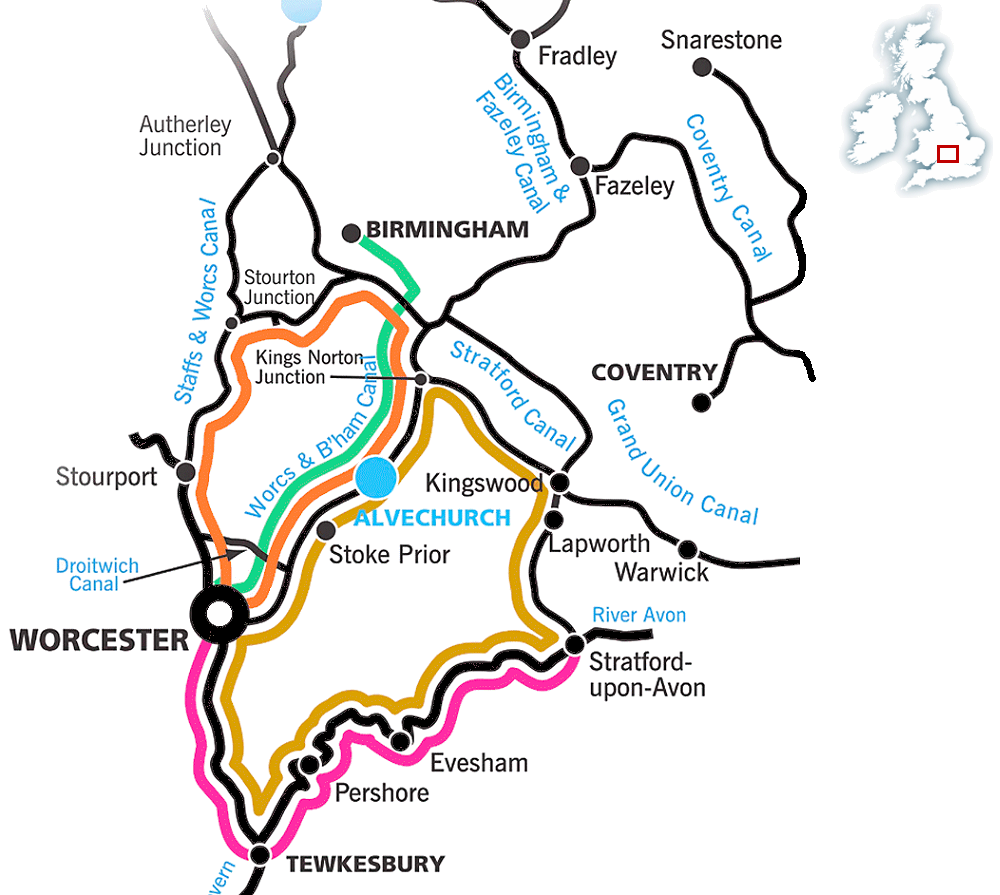 Short Break Route Suggestions (3 & 4 nights):
Relaxed route: Stourport and Return - 27 miles, 14 locks, 12 hours total
Depart the wharf and cruise west on the Worcester & Birmingham Canal heading towards the River Severn. You can moor at Diglis Basin to explore Worcester City, spending some time visiting the Cathedral or indulging in some retail therapy and making the most of the choice of restaurants and pubs in the city centre. Turn right, onto the River Severn, allowing time to make your way through the 'deep lock' which is usually manned. Cruise north past scenic tree-lined hills, farmland and leafy pastures, stopping at Stourport. Stourport-on-Severn is well worth a visit, with its historic canal basins, pubs, shops and cafés. Turn around here to return to Worcester and the marina.
Intermediate route: The Droitwich Mini-Ring - 20 miles, 33 locks, 14.5 hours total
Head south onto the River Severn, then north through the deep lock, turning right on to the Droitwich Barge Canal and passing through Hawford Lock, where you can moor for the first night. The Droitwich Canal re-opened in 2011 after almost a century of closure - expect to discover lots of wildlife along this waterway, with towpaths lined by thriving reed beds. Cruise to Vines Park where you can stop to eat out in Droitwich town or grab some supplies. Once through the small staircase locks on Droitwich Junction Canal, rejoin the rural Worcester & Birmingham Canal and turn right. Now on your homestretch along the Worcs. & Birmingham Canal, you pass through Dunhampstead Tunnel and skirt several villages including Tibberton and Oddingley, where a small church is visible from the canal. Make your way through the 12 locks on this stretch of canal before reaching the marina once again.
Active route: Stourport Clock Basin, Droitwich Ring & Return. - 38 miles, 45 locks, 21 hours total
Head west onto the River Severn then head north up to the riverside town of Stourport-on-Severn, mooring at the Clock Basin there to walk into the town.  Cruise back down the River Severn towards Worcester, but turn left at Hawford Junction on to the recently re-opened Droitwich Barge Canal.  Continue through 8 locks and some attractive scenery before arriving at Droitwich, where you can hop off once again to have a wander around. Continue south, meeting the Worcester & Birmingham Canal at Hanbury, then turn right – heading south through Dunhampstead Tunnel. There are 6 locks to negotiate at Offerton, then just a few more at Astwood before arriving back at our Worcester boat basin once again.
Weekly Route Suggestions:
Relaxed route: Stourton Junction and Return - 52 miles, 44 locks, 28 hours total
A great option if you are looking for an easy 7 night route with a little bit of everything. Cruise north up the River Severn through two sets of staircase locks and into the historic basins at Stourport-on-Severn, - the only town in Britain built solely for the canals. It is worth spending some time if possible to explore this interesting canalside town. Cruise along the very attractive Staffordshire & Worcestershire Canal to Kidderminster Lock which is watched over by St Mary's Church. The canal winds through picturesque woodland and farmland, passing pretty canalside cottages and their lovely gardens en route. After Wolverley (pub) you'll pass through Cookley Tunnel, with Cookley Village above. The canal then leads to the pretty town Kinver, which has several amenities and some interesting local shops. Continue through Dunsley Tunnel, after which you'll arrive at Stourton Junction, where you can turn around in order to make your return.


Relaxed route: Birmingham and Return - 57 miles, 108 locks, 39 hours total
This route might not require too many cruising hours but it certainly requires an active crew for the locks at Tardebigge! Head north-east, up the Worcester & Birmingham Canal through the Astwood Flight of 6 locks to Stoke Prior before tackling the Tardebigge Flight of 30 locks. Between this flight and Gas Street Basin (where you moor up in Birmingham) you can take a slight breather as there are no further locks, just 3 long tunnels and various bridges leading you through the wooded hills. Wast Hill Tunnel is a particularly long tunnel at 2726 yards. Continue to Gas Street Basin, stopping off with the family for a day out at 'Cadbury World' before making your way into the city centre. Brindley Place offers plenty of canalside restaurants and bars plus access to the NIA. ICC, National Sealife Centre and The Bullring shopping centre.


Intermediate route: Stratford-upon-Avon and Return - 123 miles, 46 locks, 48 hours total
A route suited to an experienced crew. Cruise south-west from our Worcester base, past Diglis Basin and onto the River Severn. The River offers undisturbed views of farmland and woodland leading you to historic Tewkesbury and the lovely River Avon, for which you are required to purchase an Avon Licence (at the first lock). The River Avon (lower and upper) Navigations are wide waterways with reed beds, weirs and interesting stone bridges. The River passes next to towns such as Pershore, Evesham and Bidford-on-Avon, each with shops, restaurants and pubs. Moor-up at the Bancroft Basin in Stratford-upon-Avon. From here you can easily access many attractions including the Royal Shakespeare Company Theatres, Anne Hathaway's cottage and Shakespeare's birthplace.


Active route: The Stourport Ring - 84 miles, 118 locks, 52 hours total
Leaving Worcester head south-west onto the River Severn the north to Stourport. From there, cruise along the Staffordshire & Worcestershire Canal through picturesque countryside, passing Kidderminster and Kinver on your way to the Dudley Tunnel and the BCN (Birmingham Canal Navigations). Entering Gas Street Basin in Birmingham City Centre, take the opportunity to stretch your legs and visit one of the many restaurants, bars, galleries, museums or shops nearby. Leaving Birmingham you have a lock free stretch, passing through 3 long tunnels before reaching the 30-lock Tardebigge Flight on your return journey to Worcester.

Fortnight Route Suggestions:
Relaxed route: The Avon Ring - 111 miles, 131 locks, 60 hours total
Those with lots of boating experience could cover this route within a week (if you like long hours) but it's much more relaxed over a longer break, allowing you time to visit some wonderful towns and villages en route. Leaving Worcester you join the River Severn, cruising south to Tewkesbury. At Tewkesbury lock, the lock keeper will sell you a licence for the River Avon*. The river twists and turns, presenting you with fantastic views of the delightful Vale of Evesham countryside. The river takes you past Pershore, Evesham and Bidford-on-Avon until finally you leave the River at Stratford-upon-Avon and cruise north up numerour locks, past Kingswood Junction to King's Norton Junction. Turn left here, through 3 long tunnels and the 30-lock Tardebigge Flight, then back to Worcester once again. *The River Avon itself is controlled by independent waterway authorities. Boaters will need to purchase a separate licence, which can be obtained from lock offices at approx. £50.00. Your licence fee goes to help pay for the upkeep of the river and the locks to ensure that boating on the Avon safe and enjoyable.


Intermediate route: Warwick and Return - 88 miles, 190 locks, 64 hours total
A very busy, lock-packed route, taking in the Tardebigge Flight and the Hatton Flight twice! Cruise north-east up the Worcester & Birmingham, turning onto the Stratford-upon-Avon Canal at King's Norton Junction. Pass through woodland to Hockley Heath, where you can pause for refreshments before continuing through the narrow Lapworth Locks then onto the Grand Union Canal to work the Hatton Flight of 21 locks. The Grand Union Canal passes north of Warwick city centre; to walk in, moor near bridge 49 or at Saltisford Canal Centre and then it is just over half a mile. It is worth taking a day out to visit Warwick Castle and other attractions in the city - a well-deserved rest after completing the Hatton Flight!


Active route: Nantwich and Return - 157 miles, 138 locks, 85 hours total
Cruise onto the River Severn past Diglis Basin then Worcester Cathedral, north to Stourport. Once on the Staffordshire & Worcestershire Canal, continue to Kidderminster Lock which is looked upon by the lovely St Mary's Church. The canal winds past canalside cottages, passing Wolverley and through Cookley Tunnel towards Kinver. Cruising up through the interesting Bratch Flight, planned by the famous canal engineer James Brindley and opened in 1772. The locks are flanked by attractive buildings and greenery. At Autherley Junction turn left (north) onto the lovely Shropshire Union Canal, which allows you a slight breather from the locks. There is only one lock between Brewood and Market Drayton, an interesting town recognised as being the home of Gingerbread. Departing the town cruise through the Audlem Flight of 15 Locks to Nantwich Basin. Nantwich is an historic market town with timbered buildings and lots of shops, pubs and restaurants. Turn here to make your return journey.