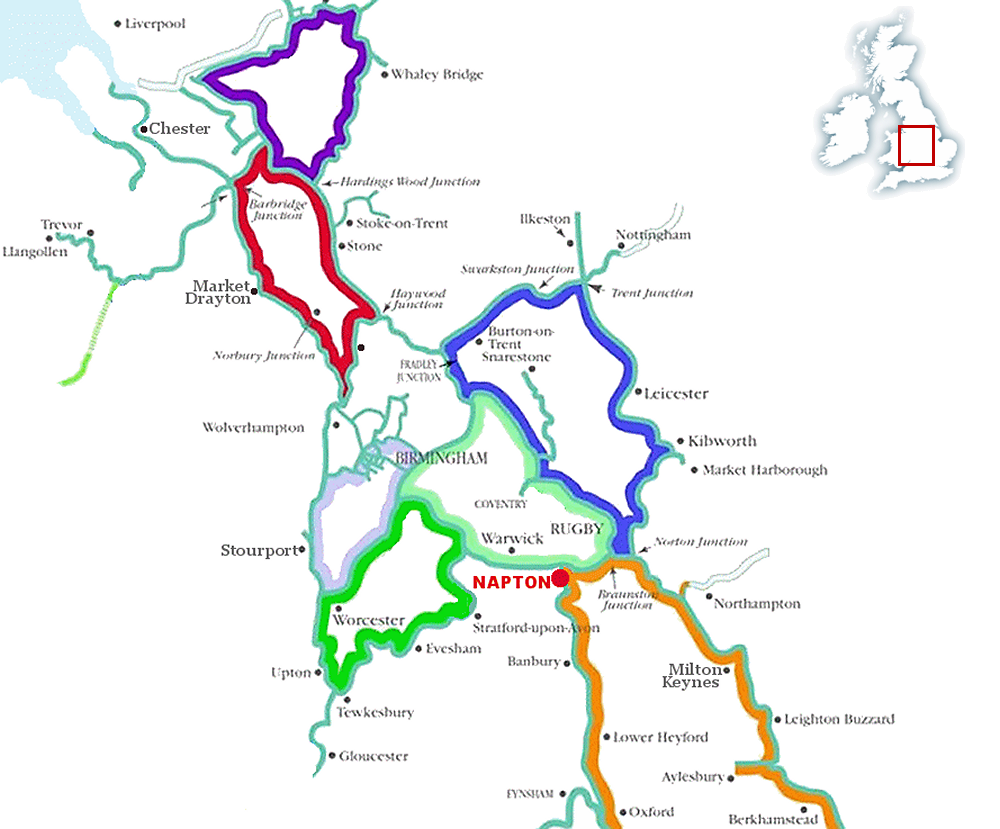 Short Break Route Suggestions (3 & 4 nights):
Relaxed route: Rugby Wharf and Return - 31 miles, 6 locks, 12.5 hours total
Cruise east to Braunston, passing under the cast iron bridge and mooring close to the village for your first evening. Walk up the hill into the village or relax at the canalside pub. Next day head up the 'North Oxford Canal' which is very peaceful, with farmland, woodland and countryside bordering the canal for the majority of the route. Next to Bridge No.73 there is a canalside pub or if you continue a little further there is a small bistro café at Hillmorton, near the three locks there. As you get closer to Rugby you start to spot larger buildings in the distance, then canalside homes and parkland. Near Bridge No.59 there is another canalside pub and if you moor up just after Bridge No.58 you can easily walk to the pub or into Rugby which has numerous facilities. Continue cruising north over two short aqueducts then turn at the Rugby Wharf Arm to return to Napton.


Intermediate route: Crick Wharf and Return - 29 miles, 26 locks, 14 hours total
This route is interesting in terms of canal features; it includes 2 tunnels, wide and narrow locks, staircase locks, junctions and lots of bridges. Depart the boatyard and cruise east towards Braunston Turn. Stay on the Grand Union Canal and cruise though Braunston, or moor up; there is The Boathouse pub near the junction and up the hill in the village a general store, butchers and The Plough. Beyond the boatyard is a flight of 6 locks and a winding hole before the entrance to the 2,042 yds long Braunston Tunnel. Within 2 miles you reach Norton Junction, where you head North onto the Leicester Arm of the Grand Union Canal. The canal here is quiet for about a mile and then comes close to the railway and motorway. The Watford Gap motorway services (open 24hrs), are accessible just south of bridge 6. After Watford Locks, which include a 4 lock staircase, the route meanders along the summit for the next 20 miles, but before your reach the end of the summit, you will pass through Crick Tunnel (1,528 yds) to arrive at Crick Wharf. You can either turn in the marina at Crick or there is winding hole just beyond Bridge 14 a little farther on. Crick is well known for the annual Crick Boat Show, held every year over the last May Bank Holiday weekend. The village is a short half mile walk from Bridge 12. Cruise back to Napton.


Intermediate route: Weedon Bec and Return - 30 miles, 26 locks, 14 hours total
Cruise east through countryside to Braunston, passing under the cast iron bridge and mooring on the right hand side for your first evening. Walk up the hill for shops and to look around the village (canalside pub). Pass through the 6 locks at Braunston, then the long Braunston Tunnel (2,042 yards). At the far end of the tunnel you come to Norton Junction with a nearby pub. Stay to the right at the junction, heading south through the 7-lock Buckby Flight. The canal then meanders lock free all the way down to Weedon Bec. Weedon has several pubs, shops and takeaways; it is an interesting town and a visit to the old Royal Ordnance Depot there is worth your time. Turn at Weedon Wharf, just before Bridge 25, and return to Napton.


Intermediate route: Cropredy and Return - 35 miles, 34 locks, 19 hours total
Suitable for a mid-week break or a very active weekend. Cruise onto the South Oxford Canal past Napton-on-the-Hill. Canal engineer James Brindley built the Oxford Canal in his typical winding fashion, flowing around contours to stay sympathetic to the land. Follow the canal past Folly Bridge where there is a shop for picking up basic provisions and a pub before you make your way through the 9 locks. You can moor at either bridge 124 or 125 and walk into the small village of Priors Hardwick. The canal then arks it way through farmland, and there is another opportunity to stretch your legs at bridge 133, where you can walk into the medieval village of Wormleighton. Fenny Compton Wharf is just 2 miles along where there is a waterfront pub. The landscape is predominately rolling hills with light wooded stretches as you follow the narrow winding course of the waterway. Passing through Claydon locks you enter the Cherwell Valley to Cropredy, where the quiet stone village flanks the canal to the east. Banbury is just a few miles further along, originally a wool town, there are now some shopping opportunities and places to eat before you turn the boat to return to the marina.


Active route: Warwick and Return - 29 miles, 50 locks, 20 hours total
Best suited to a mid-week break. At first sight this route looks similar with regards to the cruising hours required, to the route above for Cropredy, but you may wish to spend more time off the boat sight-seeing in Warwick and Leamington Spa and there are quite few more locks to negotiate in this short break. Exiting the marina, cruise West on the Grand Union Canal. Within about half an hour you pass down the flight of 3 locks at Calcutt and pass a marina on the right. Continue for 2 miles until the Stockton flight of 8 locks. Just before this flight at bridge 21 is the canalside Boat Inn, serving home cooked meals. After the flight you are at Long Itchington where there are 2 pubs within close proximity of the canal (either side of Cuttle Bridge) with the village a short walk away for provisions. Shortly after the canal drops via 2 staircase locks with 2 locks after. The canal makes its descent through the quiet Fosse Locks through attractive countryside until you reach Royal Leamington Spa where you can stock up on provisions from a choice of locations accessible from the canal. The town is a pleasant Spa town with a spacious layout with Regency and Victorian architecture. Places to visit include the Assembly Roons, Art Gallery, Museum, Tourist Information Centre and the impressive All Saints Church. North of Bridge 40 are the Jephson ornamental gardens. The canal then passes over the railway aqueduct and River Avon aqueduct to the outskirts of Warwick. All along this part of the route is a good selection of canalside pubs, Indian restaurants and takeaways. Warwick has a mix of Queen Anne era architecture and the medieval buildings which survived the fire of 1694. Warwick Castle (a medieval castle developed from an original built by William the Conqueror in 1068), is less than a mile's walk from moorings by Bridge 49. In just over a mile the canal reaches Budbrooke Junction. There are good moorings in the Saltisford Arm with access to Warwick Castle a mile distant.

Weekly Route Suggestions:
Relaxed route: Coventry and Return - 66 miles, 8 locks, 28 hours total
This route can be completed in a midweek break cruising approximately 8-9 hours a day or over a relaxed 7 night break - it is a great introduction to boating if you are looking for a route with very few locks. Start your journey by travelling east on the Grand Union Canal towards Braunston, a good spot for your first night as there are a couple of pubs in the village. Turn left to join the North Oxford Canal for about 6 miles until you pass through the 3 locks at Hillmorton and contnue past Clifton on Dunsmore to Newbold on Avon. There are a choice of pubs close to the moorings here before you pass through Newbold Tunnel (250 yds in length). Continue on, passing through tranquil farmland and under a few bridges, towards Stretton. Brinklow is situated about 1 mile just south of here and sits astride the former Roman Fosse Way and is most notable for the remains of a large Norman motte-and-bailey castle (Brinklow Castle). As you continue towards Coventry, the canal follows the railway for a short stretch, passing under iron arched bridges which mark the course of the old Oxford Canal. Ansty is a tiny village located along the canal, with a waterfront pub. The first signs of the city starts to appear as you make your way to Hawkesbury Junction. At the junction, cruise onto the Coventry Canal, through a single lock and the last waterfront pub until you reach Coventry which is approximately 5 miles away. Pass Bishop Street Basin, overlooked by attractive old warehouses dating from 1914, making your way to Coventry. The canal is often flanked by buildings as it winds its way towards Coventry Basin, where you can moor to explore the area before making your way back to the marina.

Intermeduate route: Linford Wharf (Milton Keynes) and Return - 75 miles, 42 locks, 32 hours total
Depart the boatyard and cruise east towards Braunston Turn. Stay on the Grand Union Canal and cruise though Braunston or moor up; there is a canalside pub and up the hill in the village there are shops and pubs. Cruise through 6 locks followed by the long Braunston Tunnel (2,042 yds). Soon you'll reach Norton Junction, after which there's a good overnight stopping point near a pub. The following morning go through the 7 Buckby Locks to Weedon where there are shops, various pubs and some takeaways. Further ahead you'll find Nether Heyford which has some shops and a local pub; the canal then skirts around Bugbrooke towards Gayton Junction (with the Northampton arm of the Grand Union Canal). Continue south through Blisworth tunnel (3,057 yds) - the third longest navigable tunnel on the canal system. You reappear into daylight at Stoke Bruerne, a typical canalside village with shops, a canal museum, a double arched bridge and of course, a pub or two. The Stoke Bruene flight of 7 locks also start here, taking the canal down to a 5 mile long, quiet, lock free stretch. There are moorings neat the pub at Thrupp Wharf for your next pitstop, then you continue south to Cosgrove Junction and through one lock, then over the long Great Ouse Aqueduct (or Cosgrove Aqueduct) skirting Milton Keynes, after which a walk through the Country Park leads to the city centre if you need to shop. Pass over Grafton Street Aqueduct next, then follow the contours of the canal around Stantonbury Park Farm before arriving at Linford Wharf; only a short walk from the lovely village of Great Linford. Turn at Linford Wharf and return to Napton.


Intermediate route: Market Harborough and Return - 76 miles, 46 locks, 38 hours total
Lots of tunnels. Depart the boatyard heading east towards Braunston Turn, cruise west and pass below the town where there are pubs and shops within walking distance. There's a flight of 6 locks before you arrive at Braunston Tunnel (2,042 yds in length) and then Norton Junction (nearby pub). Cruise north at Norton Junction, onto the Leicester Arm of the Grand Union Canal. The canal becomes quite meandeing as it makes it way to Foxton, past a light wooded stretch with the sounds of transportation ever present in the background. Navigate through the Watford Locks and reach the summit level of 412ft. Cruise through Crick Tunnel (1,528 yds in length) to arrive at Crick Wharf. The canal loops past the hilly landscape and under several brick bridges with little signs of habitation until you reach North Kilworth. You can walk into the village for a pub meal. Returning to the boat, you continue cruising in a northerly direction through Husbands Bosworth Tunnel (1,166 yds in length) before returning to unspoilt rural cruising to Foxton. The Foxton Locks are two staircases of five locks, there is a picnic area, a coffee shop and pub - making it a popular attraction with plenty of gongoozlers! After the locks cruise east onto the Market Harborough Arm which runs alongside the hills. There are visitor moorings at Union Wharf in Market Harborough so you can moor and explore the market town before turning around and making your return journey.


Active route: Leighton Buzzard and Return - 102 miles, 54 locks, 43 hours total
Follow the intermediate route to Linford Wharf (above) then continue to the town of Leighton Buzzard, with Linslade village sitting on the opposite side of the canal. Continuing from Linford Wharf, the canal turns in a southerly direction and there is attractive wooded scenery as you approach Great Lindford, which has a wonderful traditonal village street running away from the canal with a golden stone church, manor, farm buildings and almshouses. A little further on at Giffard Park, behind the pub is a late night store with off licence and Post Office. The canals passes over an aqueduct at Simpson beside which is a pub, then it's on to Fenny Stratford lock (nearby pub) with Stoke Hammond lock 3 miles farther south. The 3 locks (and pub) at Soulbury signal the start of the climb up the Chilterns. On the approach to Leighton Buzzard you'll find The Globe Pub, which has links to the 'Great Train Robbery'. Moor up before Bridge 114 for an easy walk into both Linslade and Leighton Buzzard, which have lots of local amenities. Turn around just after Bridge 114 and return to Napton.


Active route: Thrupp (near Oxford) and Return - 84 miles, 68 locks, 47 hours total
Cruise down the quiet South Oxford Canal and through the 7 locks at Napton, followed by two more at Marston Doles. This canal is mostly surrounded by farmland or woodland, with open fields that stretch far and wide. Often there are cows or sheep alongside the canal and herds of llama or buffalo have also been spotted at times! Being a 'contour canal' the waterway meanders along, following the curve of the land. At Fenny Compton you'll find a canalside pub and water point for your convenience. After a few more locks, the next village you encounter is Cropredy which has pretty stone cottages, a church, grocery store and two pubs (in August a popular folk festival also takes place there). Just south of Cropredy you'll arrive at the historic town of Banbury where it's possible to stop close to the centre to enjoy some of the attractions and amenities. South of Banbury there are numerous 'lift-bridges' many of which are left open to prevent livestock from crossing the canal. The next pub you'll encounter is at Aynho Bridge, then the canal curves and bends once again, all the way down to Upper Heyford and Lower Heyford, passing Rousham House just after. South of Lower Heyford you'll find the 'Rock of Gibraltar' pub, after which the canal meets with the River Cherwell which is deeper and faster running than before. Turn your boat around just before Aubrey's Lift Bridge (No. 221) and then moor up close by….from here you can walk the short distance south to visit the two attractive stone-built, canalside pubs at Thrupp. Return again to Napton.

Fortnight Route Suggestions:
Relaxed route: Oxford and Return - 99 miles, 78 locks, 56 hours total
Can be completed in a very active week or a 10/11night holiday. A popular choice for those looking for a longer break. Leave the marina and cruise onto the South Oxford Canal. Just below the first set of locks at Napton Bottom Lock, at Folly Bridge is a canalside pub of the same name, a useful stop if you are late getting away on the first day. There are 7 locks in the flight spread over nearly 1 mile. This canal offers views of farmlands with hedge lined towpaths. Drift past fields of cattle and sheep, twisting and turning with the canal for about 14 miles to Cropredy, a quiet village with old brick houses and a couple of pubs. Leaving the village behind cruise along the Cherwell Valley to Banbury town and then the smaller Cotswolds villages of Somerton, Lower Heyford and Thrupp. The City of Oxford is just south of Duke's Cut (where the canal meets the River Thames). There are moorings close to the end of the navigation below Isis Lock.


Intermediate route: The Warwickshire Ring - 104 miles, 121 locks, 60 hours total
The Warwickshire Ring is a 100 mile contrasting route of scenery and canal architecture. It includes the northern Grand Union, North Oxford, Birmingham & Fazeley and Coventry Canals. Highlights along the Warwickshire Ring include Warwick Castle, which is well worth a day trip, if you have time. Other family activities include Cadbury World, Kingsbury Water Park and Drayton Manor Family Theme Park, which is approximately a 15 minute walk from the canal if you moor by Drayton Manor Bridge. We would recommend cruising clockwise to complete the Hatton Flight near Warwick first, then on your journey back you have less locks to navigate if you need to make up time.


Active route: Aylesbury and Return - 132 miles, 109 locks, 64 hours total
Narrow and wide locks on this route. Follow the above active week route to Linslade, but continue past Linslade through Grove Lock (pub here of the same name), Slapton Lock 1.5 miles later. The locks appear more frequently as the canal rises up towards the summit at Tring. At Marsworth you join the narrowbeam Aylesbury Arm which falls westwards through 8 locks. This canal ia totally isolated and remote passing through peaceful farmland with god views of the Chilterns. Just before Aylesbury are canalside moorings for a well know supermarket and there are good moorings for visiting boats in the centre of Aylesbury itself. Here you can visit the County Museum, including the Roald Dahl Gallery, Tourist Information Centre. It is a pleasant market town where you can stretch your legs and explore before turning around to make your return journey to the marina.