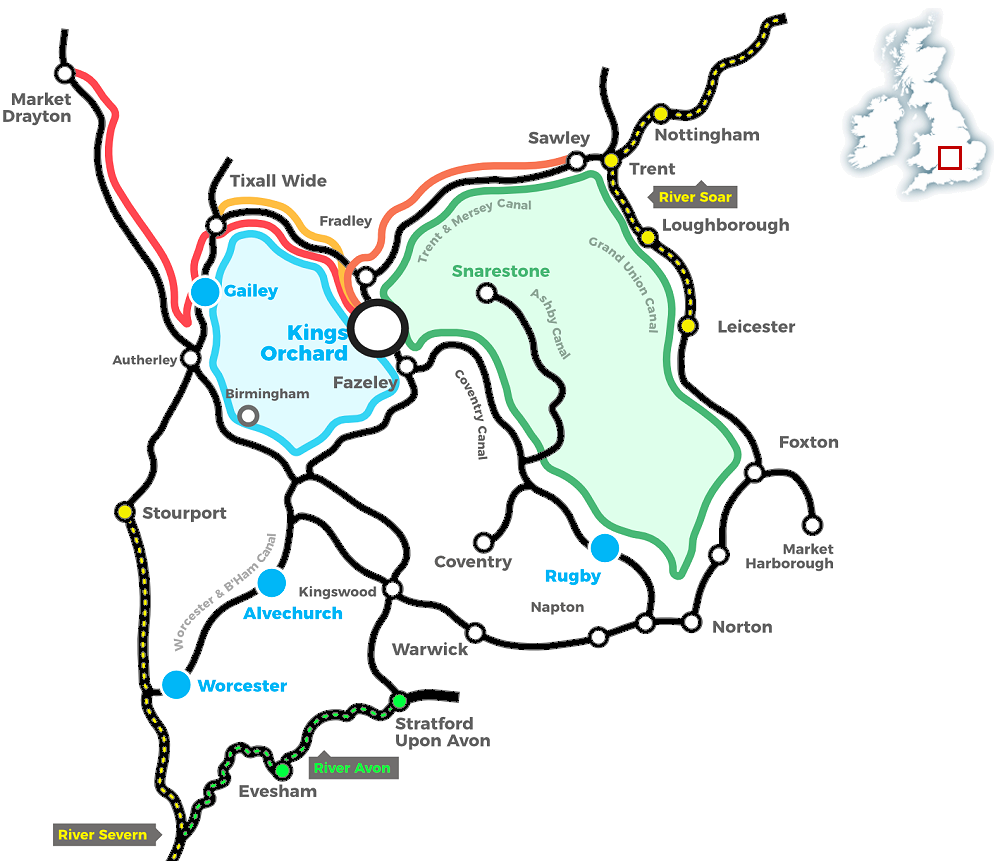 Short Break Route Suggestions (3 & 4 nights):
Relaxed route: Drayton Manor and Return - 16 miles, 0 locks, 7 hours total
Depart the boatyard and head south down the Coventry Canal passing under a couple of bridges and the remains of the end of the Wyrley & Essington Canal. Between bridge 78 and Whittington bridge, a plaque marks the canals change from the Coventry Canal and the Birmingham & Fazeley Canal. Stop at the village of Whittington or Hopwas to stretch your legs or go for a meal. Weaving between the River Tame and a railway line, the canal meanders through fields and under stone bridges. The scenery becomes more suburban, the canal is flanked by old factory buildings as you pass under a couple of road bridges and arrive at Fazeley Junction, cruising down onto the Birmingham & Fazeley Canal. Drayton Manor Theme Park is approximately 15-20 minutes walk from the moorings along the A4091. Dayton Manor Park is home to a variety of attractions including roller coasters, Thomas Land, a zoo and crazy golf (seasonal timings apply). Enjoy a fun filled family day out before returning to your hire boat and start making your return journey to Kings Orchard.


Relaxed route: Polesworth and Return - 24 miles, 4 locks, 11 hours total
Begin by heading south on the Coventry Canal cruising beside the villages of Whittington and Hopwas. At the Fazeley Junction continue on the Coventry Canal over the Tame Aqueduct and through the Glascote Locks. The canal passes through Tamworth, Tamworth Castle offers plenty of family friendly activities. The scenery is predominately housing and suburban views. This quickly gives way to a nature reserve and Alvecote Priory ruins. The canal runs along the side of a hill overlooking the Anker valley into Poleworth.

Intermediate route: Great Haywood and Return - 30 miles, 8 locks, 14 hours total
This route takes you north up the Coventry Canal through a couple of stone bridges and on to Fradley Junction and the Trent & Mersey Canal. There are no locks but you will need to open the swing bridge to arrive at Fradley. Head west passing a popular area for canal watchers, with a pub and some visitor moorings. Continue to cruise through two locks and over a small aqueduct, enjoying the countryside views towards Armitage village and Rugeley town. There are plenty of shops at Rugeley for stocking up on amenities. Heading north, there is an aqueduct which takes you over the River Trent as you cruise pass attractive scenery full of interest.

Active route: Burton on Trent and Return - 27 miles, 22 locks, 15.5 hours total
Start by cruising north up the Coventry Canal to Fradley Junction and then heading east on the Trent & Mersey Canal through three locks. At Alrewas the canal actually meets the River Trent, where there is a well marked weir which needs a wide berth. Alrewas is a small village with stores a pub and timber cottages. As you continue to climb north, you follow the A38 passing through brick bridges to Barton-under-Needwood and onto Burton upon Trent, known widely for its brewing industry, there are plenty of places to stop for refreshment here before turning around to make your way back to the marina.

Weekly Route Suggestions:
Relaxed route: Nuneaton and Return - 48 miles, 26 locks, 23 hours total
Start your holiday by cruising south on the canal passing the village of Whittington and Hopwas. Weaving between the River Tame and a railway line, the canal meanders through fields and under stone bridges. Travel through the Atherstone 11 locks, stopping off for refreshment at one of the pubs after the bottom lock. Before reaching Nuneaton town there are shops at Hartshill, which is approximately 15 minute walk from the canal. You can also stretch your legs here and enjoy a long leisurely walk around Hartshill Country park, there is also a Bronze Age hill-fort covering 7 acres. Nuneaton is a large town in Northern Warwickshire. Nuneaton is the birthplace of Victorian novelist George Eliot who lived in the town between 1819 to 1841. The town holds a regular street market on Wednesdays and Fridays and there is a pretty public park.


Intermediate route: Snarestone and Return - 69 miles, 26 locks, 43 hours total
Enjoy the rural scenery and history along the Ashby Canal on this route.
Begin your journey by heading north up the canal to Fradley Junction and head west oassing Burton upon Trent, known widely for its brewing industry. Follow the canal along the Trent Valley passing several canalside villages along the way including the historic village of Shardlwo, before meeting the Trent & Mersey Canal at Trent Lock. Head west onto the Trent & Mersey Canal Head north to Market Bosworth and learn more about the War of the Roses by visiting the Bosworth Heritage Centre & Country Park located at Sutton Cheney. There are moorings by Sutton Cheney Wharf from where visitors can follow the footpath up to the visitor centre. Moorings are also available by the old railway bridge 34A or you can cruise up to Shenton Station and to the visitor centre that way. Continue north to Shackerstone where you'll find another nostalgic mode of transport - Battlefield Steam Railway. After a return train trip to Shenton by train, pop into the tea room or visit the glass studio. Continue north to Snarestone where you'll come to the end of the navigation. Before returning to Stoke Golding, take a trip to see the restored Moira Furnace or wander through the grounds of their 150 year old deciduous woodland plantation - a taxi ride from Snarestone to Moira takes around 10 minutes. There are hostelries to cater for varying tastes, some are waterside and others require a 30 minute walk for a wider variety of cuisine.


Active route: The Black Country Ring - 75 miles, 79 locks, 43 hours total
A great ring route with an interesting mixture of rural and urban scenery for you to enjoy. Begin your journey by cruising north to Fradley Junction and turning west on the Trent & Mersey Canal, through a small flight of locks. From Great Haywood Junction, head under the bridge to join the Staffordshire and Worcestershire Canal. Cruise through the Tixall Wide and past the villages of Penkridge and Gailey towards Autherley Junction. Turn at Aldersley Junction to tackle the 21 locks in the Wolverhampton Flight, joining the New Birmingham Main Line until you reach Gas Street Basin. Located in the centre of Birmingham, the basin is a great place to moor, enabling you to explore the city. Indulge in a bit of retail therapy at the famous Bullring shopping centre or visit various attractions such as the ICC or Birmingham Sea Life Centre (Cadbury World is a short taxi ride away). Cruise northeast along the Birmingham & Fazeley Canal, through the short Curdworth Tunnel (57yds) and another lock flight of 11, until you reach Fazeley Junction. Soon afterwards you join the Coventry Canal, enjoying a nice lock-free stretch as you make your way back to Kings Orchard.



Fortnight Route Suggestions:
Relaxed route: Market Drayton - 125 miles, 48 locks, 59.5 hours total
Begin your journey by heading north on the Coventry Canal heading to Fradley Junction. Head west on the Trent & Mersey Canal through a small flight of locks before reaching the small village of Armitage, take care here as there is a particularly narrow stretch of waterway here with one way traffic only. Cruise through Rugeley navigating two locks to Great Haywood Junction and onto the Staffordshire & Worcestershire Canal. From Great Haywood Junction, heading west you cross over a couple of small aqueducts. After a short cruise you will come to Tixall Wide - a beautiful stretch of water where the canal widens, almost resembling a lake. Cruise through charming countryside, passing a canalside pub at bridge 98. Navigate through several more locks, spread out nicely throughout the valley, until you reach the market town of Penkridge. Moor up above Penkridge Lock to walk into the town, where there are some handy facilities. Continue from Penkridge, past a canalside pub at Cross Keys Bridge and across a small aqueduct on the approach to Gailey passing an old tower shaped building which was once a lock keeper's cottage and now is a small gift shop. The canal meanders along makings its way closer to Wolverhampton before you arrive at Autherley Junction, turning sharply onto the Shropshire Union Canal and through a lock. After this there is a relaxed stretch with no locks with occasional small villages such as Brewood, which has a couple of places to stop and grab a meal. At Wheaton Aston there is another lock and after this the navigation becomes lock free for 17 miles, enjoy a tranquil cruise through picturesque scenery and through a small tunnel at Cowley. Mooring near bridge 39 you can take a walk to Lynton Moss, a nature reserve with plenty of wildlife. Along this stretch there are two canalside pubs amongst the countryside leading to Tyrley Wharf and the five Tyrley Locks. You can either turn in the winding hole below the locks and moor up in preparation for the return journey, or for the more active boater, work through the locks and moor up at Market Drayton. Market Drayton town, claiming to be home of gingerbreak, with pretty black and white timber-frame town and an attractive market centre. Enjoy exploring the town before returning to your floating home to start your return journey.


Active route: Leicester Ring - 154 miles, 101 locks, 78 hours total
Begin your journey by heading north on the Coventry Canal heading to Fradley Junction. At the junction turn east onto the Trent & Mersey Canal heading towards Burton-upon-Trent. The town is well known for its brewing industry and at one time there were 31 breweries but now only a few remain – you can visit Marston's Brewery Visitor Centre. Departing Burton-upon-Trent you pass over 6 small aqueducts before arriving at Willington which has good moorings near landscaped gardens. As you travel through Swarkestone and Weston-on-Trent the canal runs alongside the River Trent through pleasant countryside. Moor up in Shardlow for examples of large scale canal architecture such as the 18th Century Trent Mill, now known as the Clock Warehouse. Just after Derwent Mouth Lock you meet the River Trent for a short while, where it joins the River Soar at Trent Lock. Heading south onto the River Soar, you will need to steer clear of Thrumpton Weir. Travelling through Kegworth (access to the village is from Kegworth Shallow Lock) you pass a riverside pub where the river almost touches the A6. Passing through a couple of locks, you come into Loughborough and the navigation meets the Leicester section of the Grand Union Canal. South west of bridge 36 you can moor up for a spot of lunch and visit Charnwood Museum or the Great Central Railway. Continuing through Mountsorrel and Cossington Lock past Watermead Country Park, 6 locks bring you into Leicester city centre. There are many things to see in and around Leicester such as Leicester Castle Gardens, the National Space Centre, Belgrave Hall & Gardens and Leicester Cathedral where Richard III is laid to rest (access the city centre by West Bridge). After Leicester, travel through 12 well spaced-out locks before reaching a flight of 7 at Kilby. There is then a small flight of 5 locks before Saddington Tunnel (880 yards) heading towards Foxton. At Foxton, stop for refreshments at the canalside pub before embarking on Britain's largest canal staircase flight (10 locks). Further south, you'll notice the Market Harborough Arm running off to the east and into Market Harborough; after which there's lock free cruising leading to Husband's Bosworth tunnel (1166 yards). The canal meanders through open fields and bypasses the villages of Yelvertoft and Winwick, offering nice gentle cruising all the way to Crick. After going through Crick tunnel (1528 yards) continue through the flight of 7 locks at Watford, the canal descending down to Norton Junction. Turning right at the junction, you come to the long Braunston tunnel (2042 yards) followed by 6 locks…. allowing you to have a well-earned rest at the canalside pub in Braunston village. After Braunston Turn, following the canal to your right, there are just 3 locks at Hillmorton and then it's completely lock-free until reaching the flight of 11 at Atherstone. Continue your cruise past Tamworth, heading north at Fazeley Junction to make your way back to King's Orchard marina.