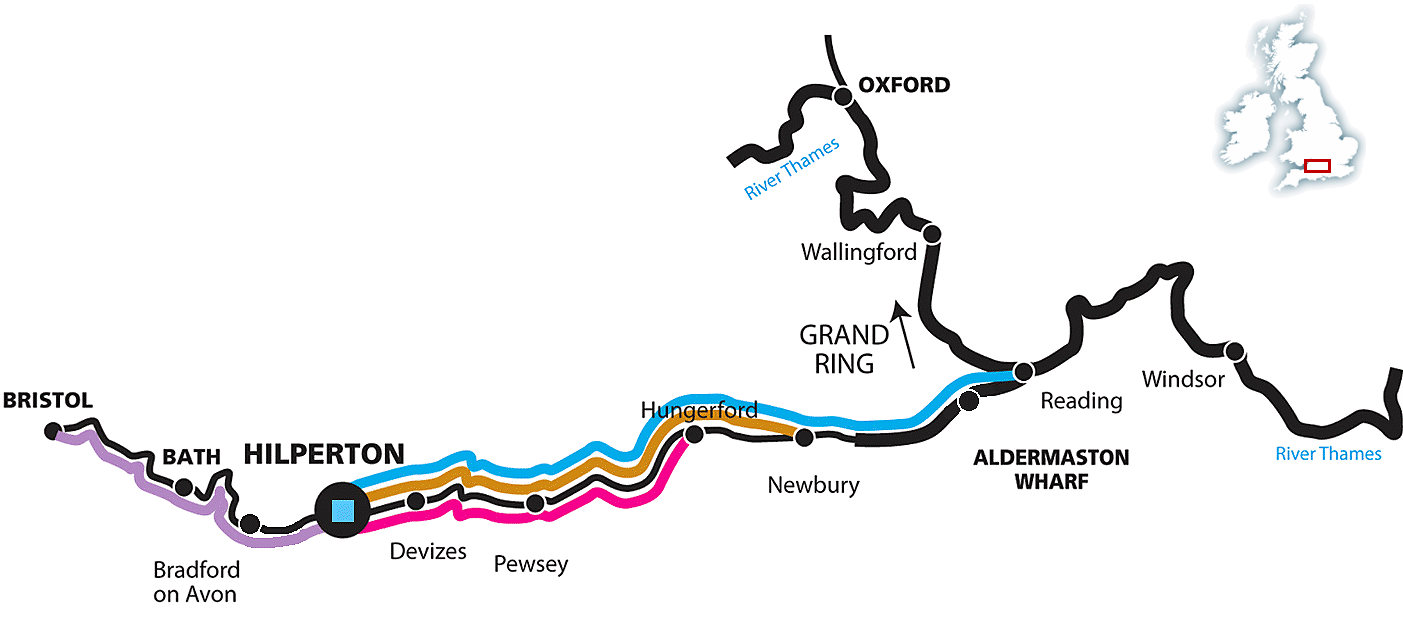 Short Break Route Suggestions (3 & 4 nights):
Relaxed route: Bradford on Avon, bottom of the Caen Hill Flight and Return - 21 miles, 14 locks, 11 hours total
An easy weekend with a combination of cruising and exploring. Spend a day in Bradford on Avon and another cruising to the base of the Caen Hill Flight, just before Devizes (avoiding the big flight of locks). Bradford on Avon has so much character and was once a busy weaving centre; many of the old buildings remain, but the 13th century Tithe Barn dominates the canalside landscape. Devizes is an historic market town with plenty of shops, cafés and restaurants. Why not pay a visit the Wadworth Brewery in the town, founded in 1875.
Intermediate route: Bath and Return - 25 miles, 6 locks, 13 hours total
One of our most popular weekend breaks, suitable for couples, families and larger groups. The canal passes very close to the city centre and Bath is without doubt, worthy of exploration. You can moor either next to Bath Top Lock or near Sydney Gardens, then it's a 15 minute walk right into the centre of the city from there. The route also features two aqueducts and two swing bridges, providing you with a proper 'taster' of narrowboating. To return, go down the top two locks at Bath then turn round. Bath is a World Heritage Site and offers numerous historic attractions including the Roman Baths and Abbey. The city has an abundance of shops, cafes, pubs and restaurants. Note: Moorings can also be available near Bath marina - after working the 6 locks leading onto the wider River Avon.

Intermediate route: Semington Bridge, Bath and Return - 30 miles, 2 locks, 16 hours total
A slightly longer weekend route or relaxed midweek break. Begin by cruising east through a swing bridge, passing lots of farmland, towards Semington Bridge. Moor up near the bridge and walk into the village to the local pub there (7 mins). Turn around before the first lock to change direction. Cruise back past Hilperton and through one lock before arriving at the historic, very scenic town of Bradford-on-Avon, mooring up there for a good look around. Continue over Avoncliff Aqueduct then past the hillside village of Limpley Stoke before cruising across the Dundas Aqueduct. Follow the canal through Claverton and Bathampton before arriving at Bath. Moor up and walk into this wonderful City, where you'll find shops, cafés, restaurants and stalls; pay a visit to the Roman Baths or admire the impressive Abbey. Go down the first two locks to turn your boat around. Return to Hilperton.

Active route: Devizes (up the Caen Hill Flight) and Return - 24 miles, 72 locks, 22 hours total
A very active midweek break, not for the faint hearted! The spectacular Devizes flight consists of 29 wide beam locks, taking two narrowboats at a time and rising by 237 feet over just two miles. Once through Lock 45 the rest of the flight starts to space out a little, permitting a little rest before reaching the stone bridge leading to Devizes. Take a walk into the lovely market town for a well deserved bite to eat and look around. Why not visit the brewery there too, before turning your boat around and making your way back through the locks for your return journey.

Weekly Route Suggestions:
Relaxed route: Bristol and Return - 59 miles, 28 locks, 25 hours total
Head west from the marina passing through Bradford on Avon and Bath, where you cruise onto the River Avon to Bristol. Stunning weirs accompany each river lock down to Bristol. Museums and waterside features reflect the city's former importance as a sea port. Between Bath and Bristol, there are some mooring opportunities at Saltford. Once in Bristol, there are visitor moorings in the floating harbour (mooring charges apply).


Intermediate route: Bottom of Caen Hill Flight, Bristol and Return - 74 miles, 42 locks, 35 hours total
Start your journey by cruising east past Semington and Seend to the bottom lock of the Caen Hill Flight, which is well worth a look (take your camera). Moor just at the last turning point before the lock flight begins and take a walk up the towpath watching (and maybe assisting) other boaters who are working their way through each lock. Between Hilperton and the base of the Caen Hill flight takes approximately 5 hours cruising each way. After returning to your boat, turn at the winding hole and cruise back past the wharf at Hilperton, stopping to visit Bradford on Avon then Bath, before continuing to Bristol.


Active route: Hungerford and Return - 69 miles, 120 locks, 50 hours total
An active route for a week, taking you beyond Pewsey and through the spectacular Wiltshire countryside. The highest point of the Kennet & Avon is marked by the 502 yard Bruce Tunnel. The canal then follows close to the Great Western main railway line through the Bedwyns - Great & Little - then down to Hungerford. Pass by Savernake Forest, an ancient woodland mentioned in the Domesday Book.

Fortnight Route Suggestions:
Relaxed route: Newbury and Return - 87 miles, 140 locks, 60 hours total
Beyond Hungerford the canal shares the valley with both the railway and the River Kennet. The Kennet & Avon Canal is so central to Newbury that the main shopping street passes directly over it. Take a day out at the races and visit Newbury Race Course.


Intermediate route: Reading and Return - 126 miles, 182 locks, 86 hours total
A great 14 night break allowing you to experience some of the lovliest countryside in the UK canal system. Cruise through a variety of towns and villages such as Pewsey, Honeystreet and Hungerford on the way to Reading. There are also a selection of Museums along this stretch including Blakes Lock Museum, Reading Museum and the Museum of English Rural Life. Once at the moorings in Reading, why not take the afternoon to do a spot of shopping at the Oracle Shopping Centre or grab dinner in one of the many restaurants that Reading has to offer. Turn and return.


Active route: Bristol, Reading and Return - 185 miles, 210 locks, 111 hours total
A city to city route, with plenty of locks and bridges to keep you busy. Begin by cruising west past Bath onto the River Avon, mooring in the city centre at Bristol. Return past the wharf and towards Devizes, passing through the Caen Hill Flight of 29 locks. Continue on the Kennet & Avon Canal, following the River Kennet, passing towns and villages such as Pewsey, Honeystreet and Hungerford on the way to Reading. Turn and return.