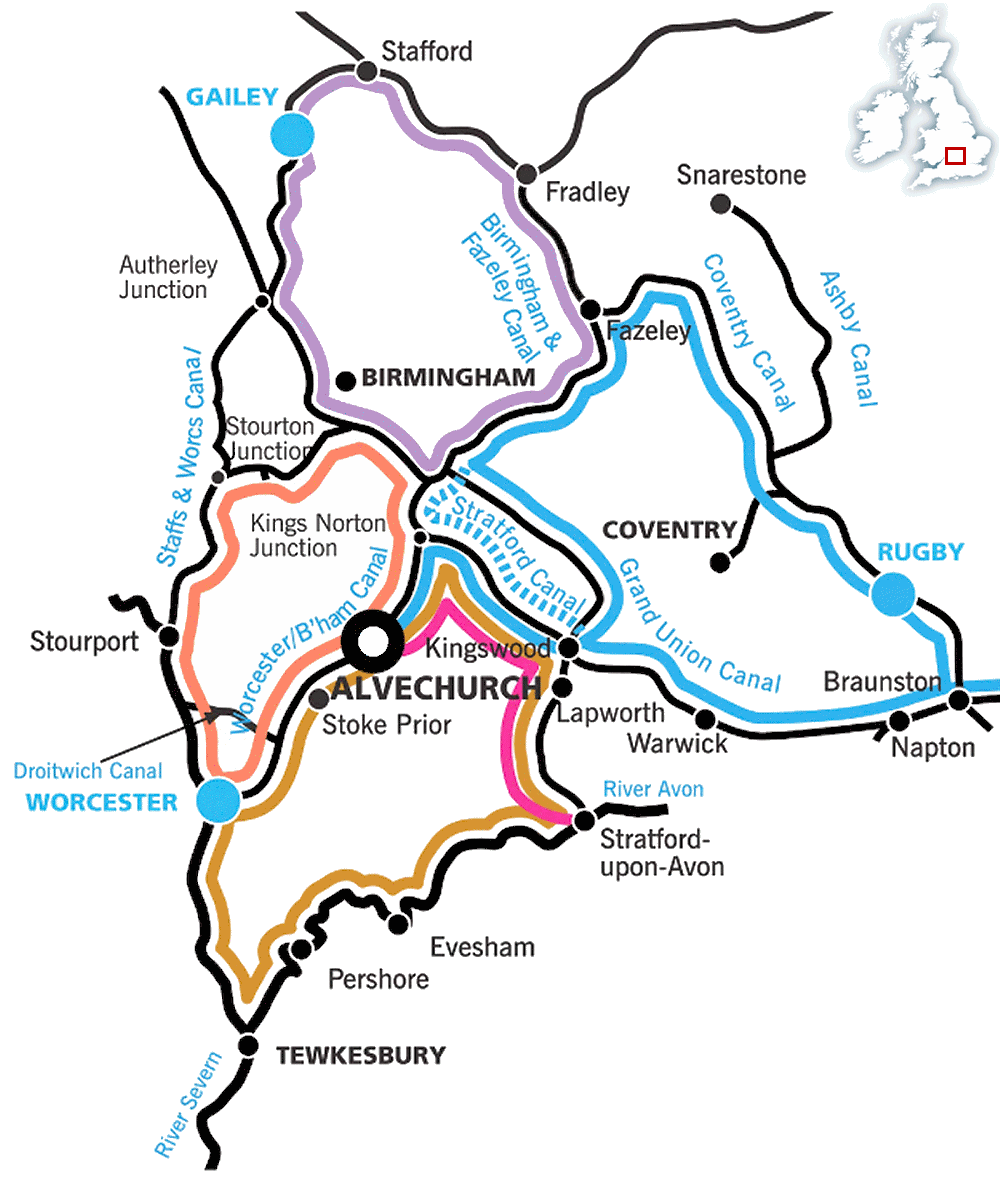 Short Break Route Suggestions (3 & 4 nights):
Relaxed route: Birmingham and Return - 22 miles, 0 locks, 10 hours total
A popular relaxed weekend route option. There are no locks to navigate, making it ideal for novices looking for an easy introduction to boating. Cruise through the long Wast Hills Tunnel to King's Norton Junction, heading past Bournville (Cadbury World) and into the suburbs of Edgbaston. At Edgbaston you pass through another short tunnel which leads you to Birmingham City Centre, where you can moor at Gas Street Basin. From here you're within easy reach of Brindley Place which has a selection of waterfront bars & restaurants and is also close to the Sea Life Centre, ICC exhibition centre and many music venues. Not to mention The Mailbox - a great shopping location. Over a 4 night mid-week, it would also be possible to include visits to nearby attractions such as Cadbury World, the National SeaLife Centre or Thinktank in your boating break.
Intermediate route: Hockley Heath and Return - 32 miles, 2 locks, 14 hours total
To avoid the Tardebigge Flight of 30 locks (south of the boatyard) we tend to suggest a cruise north on a short break. Head to King's Norton Junction from Alvechurch then south on to the Stratford-upon-Avon Canal. Make your way along the tree-lined canal, through Brandwood Tunnel and under a couple of bridges. There are three or four opportunities to stop for a drink or something to eat at nearby pubs. Stopping at Hockley Heath, moor along the towpath just upstream from the road bridge, where you're a short walk from a couple of pubs or you can pick up a takeaway.

Intermediate route: The Black Country Museum (Dudley) and Return - 41 miles, 6 locks, 17 hours total
Best done over a midweek break. A chance to experience some of our industrial heritage. Cruise east through the long Wast Hill Tunnel (1.55 miles) and past King's Norton Junction towards central Birmingham. To your left you'll soon see Bourneville Station, the local train station for Cadbury's World. Continue into the city, to Brindley Place, where you'll find pubs, restaurants and nearby attractions such as the Sea Life Centre, the ICC and the Symphony Hall. Cruising away from Brindley Place, join the Birmingham Main Line Canal, passing through the 3 Smethwick Locks and Summit Tunnel. At Spon Lane Junction turn left towards Oldbury where you join the Old Main Line Canal cruising to Tipton Junction, then to the Black Country Museum in Dudley. Turn and return to Alvechurch.

Active route: Lapworth (Kingswood Junction) and Return - 37 miles, 40 locks, 22 hours total
An active midweek break with 20 locks to operate each way. Cruise north on the Worcester & Birmingham Canal to King's Norton Junction, then south down the Stratford-upon-Avon Canal. The most active section of this route is south of Hockley Heath (information above) where you meet the Lapworth Flight, passing through the narrow locks. We suggest turning around at the Lapworth Link (Kingswood Junction) winding hole, rather than cruising through the last few locks, as the next turning point is further south.

Weekly Route Suggestions:
Relaxed route: The Birmingham Mini Ring - 47 miles, 50 locks, 28 hours total
This route can either be completed in an active midweek break or a relaxed 7 night holiday. Over a week you would have plenty of time to stop off and explore the sights. Start off along the Worcester & Birmingham Canal, cruising into Birmingham which has a great selection of canalside entertainment. You then pass through some of Britain finest industrial heritage architecture; meeting the Grand Union Canal to the south and through Solihill into rural Warwickshire, where the scenery is breath-taking. Three hours further on you jpin the Stratford-upon-Avon Canal at Kingswood Junction. After working your way through the many narrow locks at Lapworth, rejoin the Worcester & Birmingham Canal again at King's Norton Junction, through Wast Hills Tunnel and back to Alvechurch. Over a 7 night holiday, it would also be possible to include visits to nearby attractions such as Cadbury World, the National SeaLife Centre or Thinktank (science museum).
Intermediate Route: Warwick and Return - 52 miles, 82 locks, 34 hours total
Start your journey heading towards Birmingham on the Worcester & Birmingham Canal; cruising through the long Wast Hill Tunnel (2726yds). Turn right at King's Norton Junction and head south, passing through an open Guillotine Lock on to the Stratford-upon-Avon Canal. Cruise through the Brandwood Tunnel (352yds) and past a couple of canalside pubs near Waring's Green, to Hockley Heath Wharf where there are moorings available – shops, takeaways and a pub. Navigate through the narrow Lapworth Locks, which fill quite quickly, until you reach Kingswood Junction where you turn left, under the bridge. Here you join the Grand Union Canal and turn right, heading further south. The canal then meanders lock-free until you pass under Shrewley Tunnel (433yds) and arrive at the top of the 21-lock Hatton Flight. The view from the top of the flight is quite extraordinary, with Warwick Cathedral's ornate tower featuring as a centre point in the distance. After doing the Hatton Flight you come to Budbrooke Junction, where you continue ahead, up the Saltisford Arm to moor up. From here you can walk into the town centre and visit its many attractions, such as St. Johns House Museum, the timber-framed buildings of 14th-century Lord Leycester Hospital or magnificent Warwick Castle. Turn around and return to Alvechurch.
Intermediate Route: Worcester and Return - 36 miles, 110 locks, 31 hours total
Start your journey heading away from Birmingham on the Worcester & Birmingham Canal.  Soon you pass through 2 tunnels: Shortwood Tunnel (614 yards long) and then the Tardebigge Tunnel (580 yards) – make sure you're wearing a hat to keep the water drips off! Soon after the 2nd tunnel you arrive at Tardebigge Top Lock, one of a series of 30 locks stretching two miles through pretty open countryside. Situated at the bottom is a much-appreciated pub, followed by two further pubs nearby. After 5 locks at Astwood, pass through Dunhampstead Tunnel (230 yards) before arriving at the canalside village at Tibberton (pub). On the last stretch you approach the suburbs of the wonderful City of Worcester, passing through just 13 more locks before arriving at 'The Commandery' where there are moorings. It's easy to walk into the city centre from here, in order to appreciate the numerous facilities and attractions that Worcester offers, including the Cathedral, the Civil War Centre, the Theatre and Guildhall, Tudor architecture, parks, shops, pubs and restaurants, etc.  Turn at Diglis Basin and return.

Active Route: Stratford-upon-Avon and Return - 64 miles, 108 locks, 43.5 hours total
The Worcester & Birmingham Canal takes you towards the suburbs of Birmingham, but a right turn at King's Norton Junction leads you south onto the Stratford upon Avon Canal instead, meaning that you quickly leave Birmingham behind and head off into the West Midlands 'stockbroker belt'. Pas through splendid countryside and some delightful villages with quaint names. At Kingswood Junction you pass a canal crossroads with a connection to the Grand Union Canal. If time allows you could have a detour along the Grand Union to the top of Hatton Locks, then take a train the short distance to Warwick to visit its superb castle. Further south on the Stratford-upon-Avon Canal, Mary Arden's house can be found in the village of Wilmcote, close to the canal. Continue cruising south to the Bancroft Basin in Stratford with its colourful flower beds; passing over the Edstone Aqueduct which is almost 200 yards in length and through 17 locks. Once moored in the basin, a quick walk across the road to the Tourist Information Centre will produce reams of information about the local attractions including the Royal Shakespeare Company Theatres, Anne Hathaway's cottage and Shakespeare's birthplace.

Very Active route: The Stourport Ring - 84 miles, 118 locks, 51 hours total
Leaving Alvechurch, head south through the Tardebigge Flight of 30 locks, before making your way to the city of Worcester. If you prefer to bypass Worcester, use the Droitwich link which is a slightly quicker route. Leaving the canal, make your way onto the River Severn and up to Stourport. Next you pass through picturesque countryside as you cruise along the pretty Staffordshire & Worcestershire Canal, passing Kidderminster and the village of Kinver, on your way to Dudley Tunnel and a section of the Birmingham Canal Navigations. Entering Gas Street Basin in Birmingham City Centre, take the opportunity to stretch your legs visiting one of the many restaurants, bars, galleries, museums or shops. From Birmingham you have a lock free stretch through a coupld of tunnels and back to the boatyard.

Fortnight Route Suggestions:
Relaxed route: Braunston Turn and Return - 91 miles, 132 locks, 56 hours total
We recommend that you allow between 10 and 14 nights to get to Warwick and back from Alvechurch, as there are quite a few locks. The Grand Union Canal passes north of Warwick. To walk into the city centre, moor around bridge 49 or at Saltisford Canal Centre and then it is just over half a mile walk. It is worth taking a day out to visit Warwick Castle, which would be a well-deserved rest after completing the Hatton Flight! Departing Warwick, continue along the Grand Union Canal over some small aqueducts, under brick bridges and through a few locks; passing Stockton and Leamington Spa. Between Napton Junction and Braunston, the scenery is primarily open countryside with hills in the distance - you might want to note there are no waterfront pubs along this stretch however there are a few waterfront pubs as you approach the attractive, traditional village of Braunston.


Intermediate route: The Avon Ring - 111 miles, 131 locks, 60 hours total
For those with lots of boating experience, you can cover this fantastic route within a week (with very long cruising hours) but it is much more relaxed over a longer break. Leaving Alvechurch you take the very rural Worcester & Birmingham Canal to historic Worcester, then join the River Severn cruising south to Tewkesbury. Arriving at the River Avon via Tewkesbury lock, the lock keeper will sell you a visitor's licence*. The river twists and turns, presenting many different views of the delightful countryside around the Vale of Evesham, through Pershore and Bidford-on-Avon until finally, you leave the River at Stratford-upon-Avon and return to Alvechurch along the route described in 'Stratford-upon-Avon and Return'. *The River Avon itself is controlled by independent waterway authorities. Boaters will need to purchase a separate licence, which can be obtained from lock offices and the cost of this is approx. £50.00. Please remember that your licence fee goes to help pay for the upkeep of the river and the locks to ensure that boating on the Avon safe and enjoyable.


Active route: The Warwickshire Ring and Ashby Canal- 158 miles, 121 locks, 82 hours total
The Warwickshire Ring is a 100 mile contrasting route of woodland, countryside and canal architecture (industrial heritage). It includes the northern Grand Union, North Oxford, Birmingham & Fazeley and Coventry Canals. Highlights along the Ring include Warwick Castle, Kingsbury Water Park and Drayton Manor Family Theme Park, which is approximately 15 minutes' walk from the canal, if you moor by Drayton Manor Bridge. From Alvechurch it takes approximately 65 hours to complete the Warwickshire Ring, so over a 14 night holiday you should also have time to explore the lock-free Ashby Canal. This canal becomes more breath-taking the further north you cruise, passing traditional farming villages and near the location of the Battle of Bosworth Field - where Richard III was killed by Henry Tudor. The Ashby Canal has no locks, so progress is quite fast, meandering along the contours of hills, past wooded areas and through small villages.