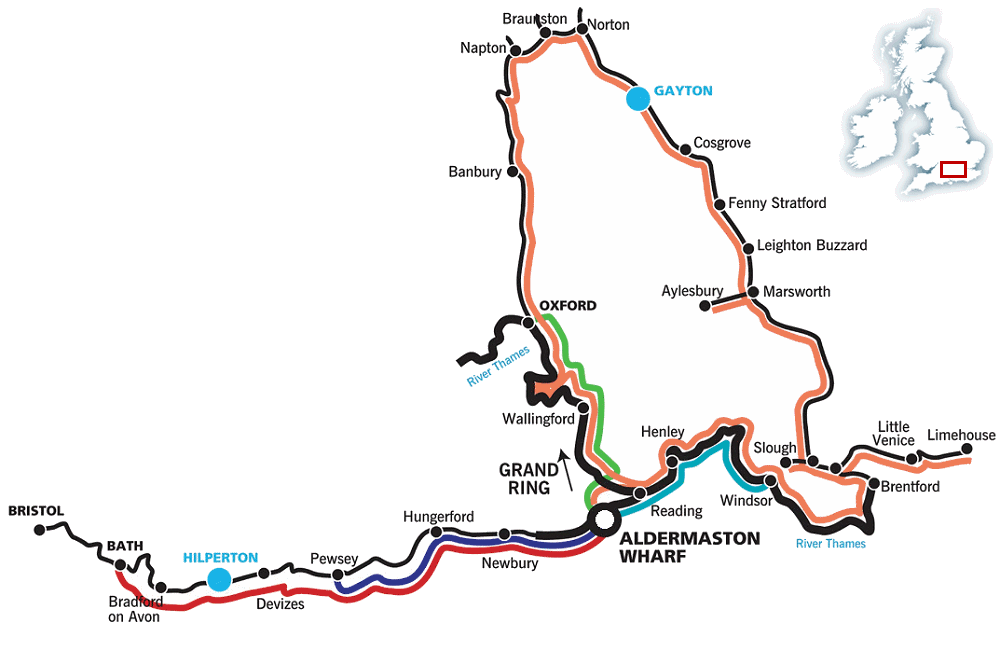 Short Break Route Suggestions (3 & 4 nights):
Relaxed route: Reading and Return - 20 miles, 20 locks, 12 hours total
Head east along the Kennet & Avon Canal to the bustling town of Reading. Just after Tyle Mill lock and Tyle Mill swing bridge, moor up for your first evening and walk to the local pub (approx. 10 mins). Next day continue east past Theale, Burghfield and Southcote into Reading. Traffic Lights control the boats moving through central Reading and the waterways can be quite narrow at times. Lots of bridges span the navigation as you move towards the town centre - High Bridge being an excellent access point to many facilities. There are plenty of waterside pubs and the Oracle Centre (north of High Bridge) is a particularly popular place to stop, with shops, restaurants and pubs in abundance. Turn around at the junction just after Kings Road Bridge and return to Aldermaston.


Relaxed route: Newbury and Return - 18 miles, 22 locks, 14 hours total
A great weekend route for those wishing to stay active; working the locks and opening bridges, whilst taking in the scenery along the canal. Cruise to the market town of Newbury, which boasts some lovely 17th century buildings. Departing west from Aldermaston Wharf, which has a visitor centre and 18th century style cottage, navigate your boat through Monkey Marsh lock to Thatcham where you can moor up at Thatcham Lake and explore the Nature Discovery Centre or walk to the nearest pub. Then it's on to the picturesque market town of Newbury, which has plenty of shops, pubs and restaurants to enjoy. There is also a racecourse, a theatre, an arts centre and market square. Pass the pub next to Newbury Bridge and turn before the next swing bridge to make your way back to the wharf.


Intermediate route: Henley and Return - 37 miles, 28 locks, 18 hours total
Head east to Reading on the River Kennet and join the River Thames, where the locks are generally manned. Relax and unwind whilst cruising along the Thames to the 12th century market town of Henley. En route you will find some very pleasant scenery to admire and charming villages to visit, including Sonning and Wargrave, which also have some excellent restaurants and pubs. Arriving at Henley-on-Thames, home of the Royal Regatta, there are beautiful views of the town, church and historic bridge. Walking into the town you'll find plenty of interesting places to stop; there are lots of independent shops and traditional pubs (many hidden down smaller side streets near the river) or you could take a look around the River & Rowing Museum, which includes a 'Wind in the Willows' experience for children. Turn and return to Aldermaston.


Active route: Hungerford and Return - 36 miles, 42 locks, 24 hours total
Cruise west from Aldermaston, under the footbridge, to Thatcham and then Newbury (as above). Follow the contours of the canal, along the tree-lined footpath, working the locks and bridges. Stop at Hungerford to visit the famous antiques shops and beautiful waterfront, before turning to make you way back to the wharf.

Weekly Route Suggestions:
Relaxed route: Windsor and Return - 79 miles, 42 locks, 32 hours total
A short cruise takes you to Reading, with its host of facilities. Join the Thames just after Reading and cruise downstream through the famous 'Royal Regatta' town of Henley; the charming town of Marlow where Shelley and T.S. Eliot once lived; and Cookham, home to the Stanley Spencer art gallery. Moor up at Taplow to visit Cliveden House and if your budget is up to it, stop at Bray where you could enjoy a fine meal at either Heston Blumenthal's Fat Duck or the Roux brothers' Waterside Inn. Visit Eton College before arriving at the royal town of Windsor, famous for its castle and nearby Legoland: www.legoland.co.uk.
Intermediate route: Great Bedwyn and Return - 43 miles, 60 locks, 32 hours total
Starting from Aldermaston Wharf, cruise west past Thatcham to the picturesque market town of Newbury. Newbury is an interesting place with good facilities – there are plenty of pubs, shops and restaurants as well as some attractive architecture. A little way further ahead, having cruised through woodland and farmland, there are some pleasant pubs at the small canalside village of Kintbury; after which you'll arrive in Hungerford where you can stop off to visit the numerous restaurants, pubs, cafés and antiques shops.  The surrounding canalscape is also particularly attractive. Next it's on to Great Bedwyn, with a short walk from your moorings, up the wide main street leading past pretty houses and into the village itself. Turn at Great Bedwyn Wharf to return to Aldermaston.

Intermediate route: Pewsey and Return - 64 miles, 90 locks, 45 hours total
As above, then continue to cruise further West. Starting from Aldermaston Wharf, cruise west to the picturesque market town of Newbury. There are some nice pubs at the canalside village of Kintbury before arriving in Hungerford - stop off to visit the numerous antiques shops and admire the charming canalscape. Then it's on to Great Bedwyn and Crofton Pump Station, home to the world's oldest working beam engine. Don't miss the historic conservation village of Wootton Rivers on your way to Pewsey, with its beautiful thatched cottages.

Active route: Oxford and Return - 99 miles, 48 locks, 48 hours total
Cruise east to Reading with its wide range of facilities and then join the River Thames, cruising upstream to Elizabethan Mapledurham House - a magnificent Elizabethan building complete with a working corn mill. After Goring, moor up for a visit to Beale Bird Park and then it's on to the pretty market town of Abingdon via Wallingford. The historic 'dreaming spires' of the University City of Oxford now await you. Don't miss a visit to the fabulous Ashmolean Museum and Bodleian Library whilst you're there.

Fortnight Route Suggestions:
Relaxed route: Lechlade and Return - 158 miles, 70 locks, 74 hours total
Head east to join the Thames for an unforgettable cruise along this great river. Follow the river past Berkshire villages such as Pangbourne and Streatley. Be sure to moor up and take a take in the dramatic views of the river and surrounding Hills at Goring Gap. Following the River to Lechlade takes you past a variety of interesting towns and villages, including Abingdon, as well as historic Oxford City - a great location for a nice meal or shopping break. Departing Oxford the river starts to narrow, winding past willow trees, with views of the lovely Cotswolds. Here you will generally operate the locks yourselves. Moor at the riverside pub at Lechlade, before turning your boat to start your return journey to the wharf.


Intermediate route: Limehouse and Return - 192 miles, 114 locks, 80 hours total
If you have more time to explore, also visiting London, this route will take you up onto the River Thames, past Henley, Marlow, Hampton Court Bridge, Teddington, then onto the Grand Union Canal at Brentford and up towards Little Venice, London Zoo and Camden market. At Henley you could visit The River and Rowing Museum (www.rrm.co.uk). You'll also pass Runnymede near Egham, which is notable for its association with the Magna Carta and its current collection of memorials; or stop off at Staines where you can visit Thorpe Park.


Active route: Bath and Return - 130 miles, 176 locks, 87 hours total
Cruise almost the entire length of the beautiful Kennet and Avon Canal going west from Padworth via the picturesque market town of Newbury and then on to Hungerford. The historic conservation village of Wootton Rivers is well worth a visit before you reach Devizes, with its amazing flight of locks at Caen Hill. Bradford-on-Avon is a pretty market town with a 13th century tithe barn, which lies a few miles from highlight of your cruise – the graceful Georgian city of Bath, boasting a host of good restaurants, attractions and some great shopping.