General Description: A comfortable 52 foot, cruiser stern, narrowboat blending traditional craftsmanship with a modern approach to cruising. Easy to control and ideal for both the novice boater and experienced crew. Fore and aft cockpits are roomy, have good seating areas and have raised helmsman's seats. We would suggest that any group would benefit from the additional space on this boat. Phoebe has a cruiser style stern allowing the helmsman and crew space to stand on the rear deck.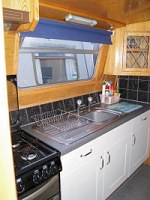 Each sleeping area (up to three cabins including the saloon) can be divided by a separating door, providing plenty of privacy. For comfort and convenience, each boat has central heating and a main bathroom with shower, toilet and washbasin. The fully equipped galley is light and bright and combines with the dinette to make a great relaxation area for the whole crew. A colour TV/DVD and a radio/CD are also provided.

Start time is between 1.30pm and 3.30pm on the first day of hire (we endeavour to have boats ready for 1.30pm subject to unavoidable delays - if delayed there are tearooms on site). Boats need to be returned by 9.30am on the last day and vacated by 10.00am. .

Price Includes: VAT, full boat inventory, all fuel (gas and diesel), bed linen, 1 hand towel and 1 bath towel per person, car parking, boating tuition on arrival. Buoyancy aids are available on request. Cleaning materials provided. (Fuel inclusive – This boat is handed over with a full diesel tank and full gas bottles at no cost to the hirer. This will normally suffice for one week's cruising. Please see Booking & Hire Conditions below).

Damage Deposit / Waiver: A security Damage Waiver Premium of £50 is payable on every hire. This is a single non-refundable payment, which covers you for any accidental damage or loss to the boat or its equipment whilst on hire to you (except for negligent or malicious damage). Alternatively, you may pay a Damage Deposit of £500 which is refunded to you at the end of your holiday, after the craft has been checked and provided that you return the boat and its equipment on time, undamaged, clean and without any third party claims you.

N.B. For Single-Sex Group Bookings a refundable damage deposit of £1000 is payable on arrival instead of the normal damage waiver / damage deposit. This is done by taking a card swipe authorisation (no payment is actually taken unless the boat comes back late, dirty or damaged).

Pets: Pets are welcome. The first pet is included within the basic boat hire price. Subsequent pets welcome for an additional charge of £25 per pet.
Deposit Payment: A booking deposit of 20% of the total cost is payable initially, with the balance of hire due 6 weeks before your arrival date. There is a 2% surcharge if you wish to pay by credit card, but no surcharge for payment with a debit card.

Cancellation Cover: Cancellation protection cover is not included, but can be offered by the boat company if required.
Click here to view booking & hire conditions.