Prince of Light
29ft Cruiser
10ft
Forward Steer
4
2
0
1
1
Warm Air
Yes (max 2)
240 Volts
Features
Length
Width
Type
Sleeps
Double Beds
Single Beds
Showers
Toilets
Heating
Pets
Power
Discounts and Concessions:
Multi-Week Discounts: Book two weeks and save 15% off the second and subsequent consecutive weeks.
Multi-Boat Discount: Save 5% off the hire charge of the cheapest boat(s) when you book two or more boats from Potter Heigham at the same time and under the same name.
Loyalty Discount: Save 5% off the hire charge if you have booked and taken a holiday from our Potter Heigham base within the last 3 years.
Terms & Conditions of Hire:
Hire Times: Arrive from 2.30pm for short breaks or 4.00pm for week holidays. Return your boat by 9.00am on the last day of hire.

A deposit of 25% of the total cost is required. The balance of hire due 8 weeks before your arrival date.

This boatyard will not accept just 1 adult, or 1 adult with children, for safety reasons.

For full terms & conditions, please click button above.

Optional Extras:
Pet Charges, per pet: £35 per week or short break.
Car parking each additional car: £15 per week or £10 per short break.
Undercover parking: £20 per week or £15 per short break (advance booking advised).
Sailing dinghy: £65 per week or £50 per short break (please request at time of booking).
Rowing boat: £50 per week or £40 per short break (please request at time of booking).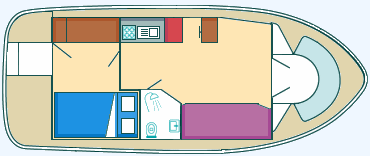 Boat Description:
Highlights: Elite cruisers new for 2019 & 2020. Modern forward steering cruisers with a split sliding canopy and a forward sundeck which can be used for sunbathing or fishing. Shore power connection is available. Diesel fired warm air heating so the batteries must be topped up before switching on for the heating to work (normal running 5 – 6 hours a day should suffice). The boat can stay warm for up to 5 hours in the evenings when the engine is not running. 240V 3-pin socket for very low wattage electric appliances only (e.g. mobile or laptop chargers).
This cruiser should pass under all bridges including Potter Heigham Bridge, subject to weather and tide conditions. If passing under Potter Heigham or Wroxham Bridges, please use the bridge pilot service (free of charge).
Saloon: Spacious saloon with convertible double berth and full sliding canopy. There is a door to the forward sundeck. TV/DVD, radio/CD player. USB connection.
Galley: Well-equipped galley with two burner gas hob, oven and microwave (if requested when booking). Cutlery, crockery, saucepans and cooking utensils are provided. There is a small under counter fridge with a freezer compartment.
Cabins: One rear double cabin.
Bathroom: One bathroom with a flush toilet, shower and wash basin.
Additional Costs:
Non refundable damage waiver: £55. The payment of a waiver will free the hirer from any liability to pay for loss of/or accidental damage to the boat or its fittings and equipment, but NOT malicious damage, loss of equipment by negligence or return of the boat in an unclean condition, which will incur an extra payment.
Fuel deposit: £150 payable with the balance of hire. At the end of your holiday, the balance of any fuel remaining will be refunded to you electronically.
Refundable security deposit: Non-family/all-male/all-female groups: £50 per berth, paid with the balance. Refundable subject to the boat being returned on time, clean, undamaged & with no third party claims.
What's Included?
Bed linen.
Three outdoor car parking spaces and a welcome hamper.
Cancellation protection.
Gas for cooking.
Tuition and buoyancy aids.